Here's our pick of the best free Milford Sound walks
After parking the car, we packed in a day of Milford Sound walks. Our walks included the Foreshore Walk before taking the 2 hour boat trip. After that, we did the walk up Milford Sound Lookout before heading back to Te Anau. Both walks give you awesome views out to the sounds. On a lovely day, the water will have a stunning mirror effect, perfect for taking photos.




The most popular Milford Sound walk is the Milford Track. However, because it's a 4-day hike (3 days at the moment in May 2020) you'll have to stay in huts that cost, and these aren't cheap. So not technically a free walk. There is no camping allowed on the Milford Track either. We haven't walked the Milford Track yet so I can't write about it sorry.
Don't worry, there are plenty of other great day walks in Milford Sound you can do, see our list below. You'll find most of the walks aren't right in Milford Sound itself, that's because of all the really big mountains around. Most are located along the Milford Road on our way there.
It rains quite a lot in Milford Sound so make sure to check the weather before planning your walking trip.
Great deals on cruises & bus trips to Milford Sound
We drove out to Milford Sound for the day from our hotel in Te Anau. This gave us plenty of time to do a few free walks then take a 2 hour boat trip in the Milford Sounds. If you don't mind what time you go you can get a really good deal on the Mitre Peak Cruise here. It really is spectacular and well worth it. If you'd rather someone else drive while you soak up the scenery (it's a long drive of 118km from Te Anau) then take a bus tour which includes the cruise and a walk, which leaves from Te Anau. If you're flexible with your times you can save up to 50% on the bus tour and Milford Sound cruise here.
How many waterfalls are in Milford Sound
5 minutes into your cruise in the Milford Sound you'll pass Bowen Falls. This is both the water and electricity source for the residents of Milford Sound. The other permanent waterfall is Stirling Falls. If it's just rained you'll see waterfalls everywhere, it's very pretty.
List of all walks in Milford Sound
Milford Sound Car Parking – Must read before you start planning your walk or hike
Yes, you can park at Milford Sound. Parking in the main Milford Sound car park will cost you $10 per hour (in 2021). You'll need to park here if you want to be close to everything including boat trips and walking. Personally, I think this is really bad as you are forced to pay, there is no free parking close to Milford Sound main area (visitor terminal – where the cruises leave from) unless you're staying at the Milford Sound Lodge or you're on the Milford Sound overnight cruise. There is however limited free parking at Deepwater Basin Rd (back past the airport), you can catch a free bus to the visitors terminal – allow an extra 30 mins for this option. It's about 2 kms from Deepwater Basin Rd to the Milford Sound marina.
You might assume that because you're on a 2 hour boat trip that you could park at the visitor terminal parking area – well you'd be wrong, this is only for buses. This is why it's sometimes better to take an all-inclusive cruise & walking tour to Milford Sound from Te Anau, it could save you up to $40+ in parking fees.
How to pay for parking at Milford Sound
There is a barrierless license plate recognition system in place, simply enter your license plate number into one of the many pay machines around Milford Sound (for most rental vehicles your license plate is on the label on your key), and follow the instructions. If you are taking a cruise before or after your walk, you'll need to allow 3 to 4 hours for parking.
You must pre-pay by credit card or debit card on arrival. You'll see the machines in the car park.
You can top up your car parking payment in the Milford Sound Visitor Terminal if required.
The main car park is a 10 minute walk from the Milford Sound Visitor Terminal and in between the Foreshore walking track.
If you're planning on taking a cruise, allow from 1 hr 30 mins up to 4 hrs 30 mins, not including the overnight cruise options.
There are a limited number of free car parks in the Deepwater Basin Park & Ride area, with a free shuttle bus service departing every 15 to 20 minutes to the Milford Sound Visitor Terminal.
It is safe to drive to Milford Sound unless it's the middle of winter and the road is closed. If you choose to drive to Milford Sound please allow at least 1 to 1.5 hours prior to a cruise departure to find a car park and make your way to the Milford Sound Visitor Terminal to check-in 20 minutes before your cruise departure.
As an alternative to paying for parking…
Take the option of leaving the car behind and traveling to Milford Sound from Queenstown or Te Anau by bus. This is way better, the road out to Milford Sound is long (155km) and very beautiful. If you're driving it's hard to see all the sights. You'll also get a running commentary from the driver or tour guide the whole way. Here are some fantastic tours which include all transport to Milford Sound, a boat trip, and walking tours.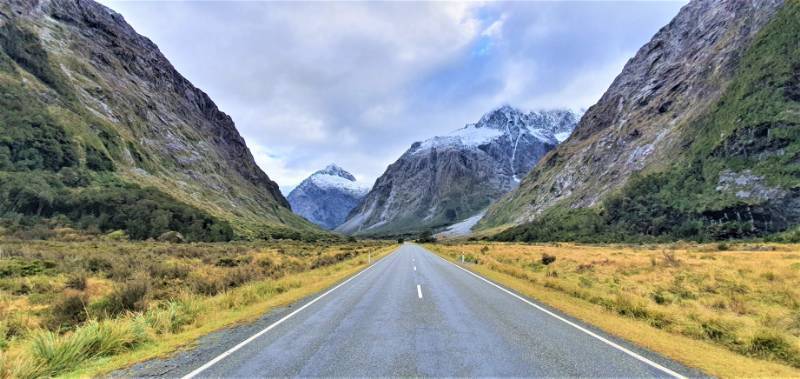 How long is the drive from Te Anau to Milford Sound?
There is only one road to Milford Sound from Te Anau. It's 118km and if you didn't stop it would take you around 1 hour and 45mins to drive. But who can drive there and not stop along the way, the scenery is just too stunning, and many great photo opportunities.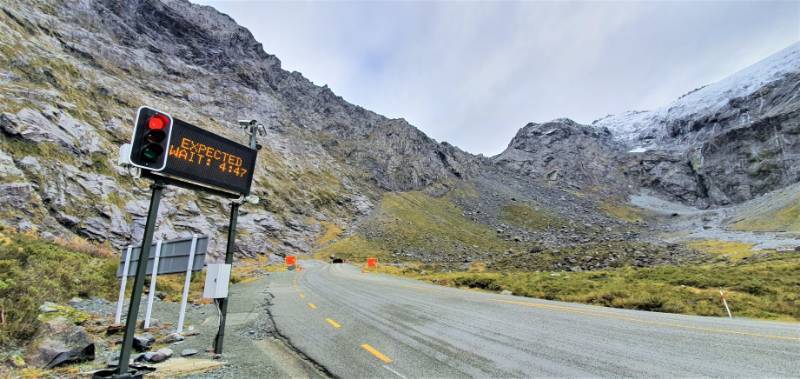 The Homer Tunnel
After 100km's you get to the Homer Tunnel. The tunnel is 1.2km long and 945m above sea level. It feels a bit strange when you enter and drive on a steep gradient downhill. The tunnel is quite old, completed in 1953, and a bit rough looking inside, even a little scary. You'll need to turn on the car headlights before you enter to help see the way. The set of lights will force you to stop at the entrance to the tunnel. There you will watch the count down telling you how long you have to wait before it's your turn. There is only one lane of traffic in the tunnel. It's no hardship waiting here, the scenery is just stunning, you're faced with a solid mountain view.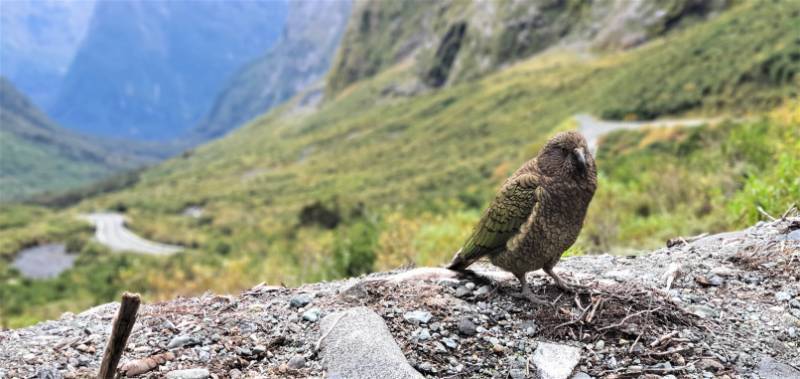 Meet the cheeky Kea bird
When stopping to take photos on the road to Milford Sound, you're sure to see a New Zealand Kea bird, or Alpine Parrot. Kea's can't fly and are not shy at all. They are very loud birds too. Don't feed them or let them jump on your car, they'll tear it apart, literally.
Safety in Fiordland National Park – be prepared
Choose a walk that suits your fitness and experience. Fiordland National Park is not a place to muck around, especially if you're planning a long walk.
Follow the Outdoor Safety Code:
Plan your trip
Tell someone your plans
Be aware of the weather
Know your limits
Take sufficient supplies including enough fresh drinking water
If you need more information, visit: www.mountainsafety.org.nz. For longer walks or hiking it's best to take a NZTopo map with you. You'll also need the correct clothes and supplies for your activity. We recommend you take:
Sturdy walking shoes
Sun hat in summer and warm hat in winter
Extra warm clothing even in summer
Waterproof jacket, it rains alot in Fiordland National Park
Drinking water and food
First aid kit
Sunscreen for all year round
Insect repellent (in summer months)
Camera
Watch out for the weather at Fiordland National Park
The weather can change quickly – high winds are common and snow can fall at any time of year. Check the weather forecast regularly.
Snow and ice conditions can be treacherous. Always walk with care over snow or ice.
Avalanches can occur any time of the year but are most common in winter and spring. Take special care when travelling through known avalanche areas and check avalanche advisory.
The alpine areas in the park are very exposed, and at any time of year, spending a long time in the sun or in hot conditions can lead to dehydration and severe sunburn – go well prepared.
Leave no trace on your walks
Always walk on the tracks provided and if camping out make sure it's on durable ground, not harming any of our wonderful nature. Take your rubbish with you, please. Be aware of "didymo" and do your bit not to spread it or other freshwater pests. Remember to check, clean and dry your hiking boots before entering or moving between streams, creeks and rivers.