Here's my list of the best walks & hiking tracks in Rotorua
Rotorua, with its big trees, geothermal wonders and bubbling hot pools, is a haven for those of us who want to get out and walk here. I've recently put together a list of fantastic walks in Rotorua that not only let you see the beauty of the area but also ensure you're getting your fitness steps in amidst some of the most awe-inspiring scenery you'll ever encounter.
Picture this: towering Redwood trees, their canopies creating a natural wonderland as you walk on the suspended bridges of the Redwoods Treewalk. It's a magical experience that's even more enchanting as dusk sets in and lanterns illuminate the forest.
Now, if you're looking for diversity in your hiking in Rotorua, the Whakarewarewa Forest (known as The Redwoods to the locals) is the best.
Known as a paradise for mountain bikers, this forest also offers a myriad of trails and tracks for hikers, each catering to different energy levels. Plus, the panoramic views of the geothermal steaming hot pools below add an extra layer of excitement to your walk. I've got an excellent walk you can discover below in the list.
If you decide to walk in the Waimangu Volcanic Valley, unfortunately, this will cost as there are no free walking tracks here. However, if you're visiting Rotorua you really must go there, it's well worth the visit.
There are some great walking tracks here and so much to see. Imagine standing by the Inferno Crater, gazing at the colossal Frying Pan Lake, and discovering the amazing Black Crater. It's like stepping into a cinematic landscape, minus the green screens, just awesome!
For those seeking a challenge with a view, the Blue Lake Track walk is a must while in Rotorua. The crystal-clear waters of Lake Tikitapu create a mesmerizing backdrop as you walk through the native bush. Pack a picnic, find a serene spot, and have fun on this walk.
If you're in the mood for a more laid-back experience, Hamurana Springs is the perfect escape. The clarity of the water is almost magical, and as you stroll along the track, you'll be surrounded by a redwood grove and towering trees that have witnessed more history than your grandma's cherished apple pie recipe. It really is amazing. Unfortunately, this walk is no longer free.
Of course, after all that walking around Rotorua you must take a dip in the Polynesian Spa they will soothe your legs and feet. When I was there it wasn't so busy, it's good to go in the quieter time plus you can get the entry cheaper.
Best time of the year to go walking in Rotorua
Summer is hands down the best time for walking in Rotorua. With consistently warm temperatures averaging around 25 to 30 degrees Celsius (77 to 86 degrees Fahrenheit), the weather is just right.
The longer days offer ample daylight, allowing for extended walks through the mountains and lakes. Everything is in full bloom, creating vibrant and lively surroundings. Plus, the chances of rain are minimal during this season, ensuring a reliable and enjoyable experience on the tracks.
Whether you're exploring the Redwoods, Whakarewarewa Forest, or any other track, summer provides the perfect conditions for walking in Rotorua.
List of all my walks in Rotorua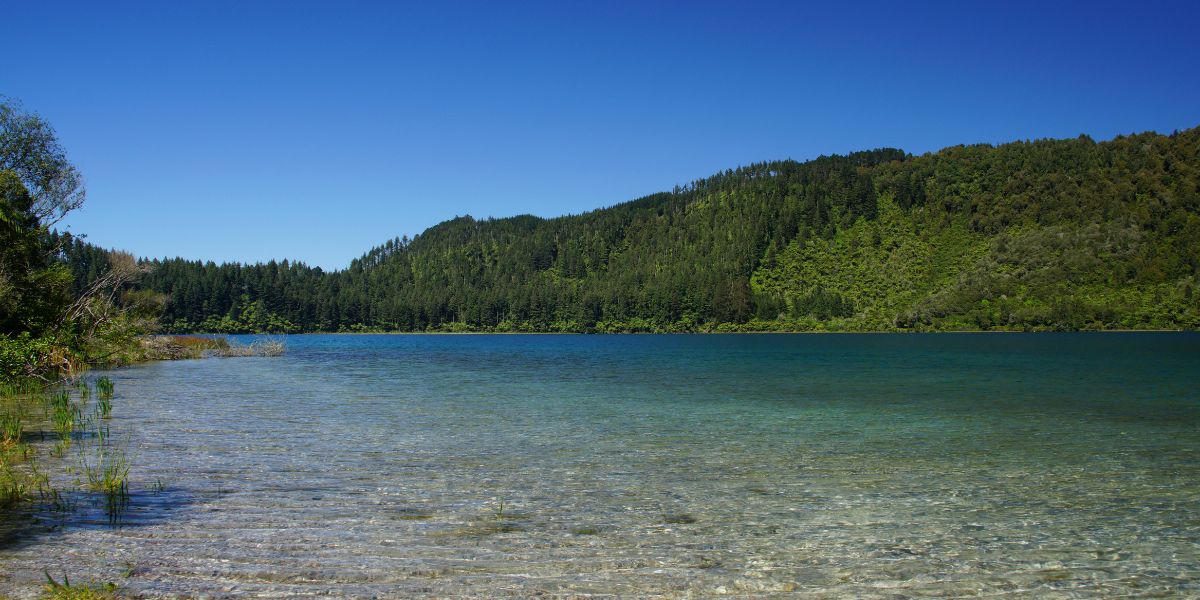 4.50 km • 1 Hour 30 Minutes • Very Easy • The Blue Lake walk is an 11 km drive from central Rotorua. There is plenty of parking along the Blue Lake waterfront.