Here's our pick of the best walks & hiking tracks in Queenstown
There are so many great walks in Queenstown, it's hard to decide which are the best. I really like the walk around Moke Lake, although I confess I biked it! Lake Hayes is also a favorite. See the full list of walks a bit further down this page. I haven't managed to hike the Queenstown Hill Track yet, but I will next time we are in town. It's meant to have more fantastic views of Queenstown. Or better yet, walk up the Tiki Trail to the top of the Skyline Gondola and paraglide down – wow that's fun.




Must do while in Queenstown:
Experience the awesome views from the top of the Skyline Gondola. Take a one way trip on the Gondola and save money! Mad as it may seem, I actually walked up the Tiki Trail to the top of the Skyline Gondola. This rewarded me with totally stunning views over Queenstown and the amazing Remarkable mountains. Far less exhausting would be to enjoy the ride up and walk back down, but then you miss out on the great workout! You only pay for a one way ticket which you buy at the top.
If you decide to do the ride both ways you can skip the queue and buy your Skyline Gondola tickets now. The queue can get quite long, especially if a bus load of tourists arrive all at once.
Another awesome way to see Queenstown if you don't want to walk around is to take do a tour. Book the best of Queenstown sightseeing tour in a luxury van. If you're limited for time and really want to check out Milford Sound while you're in Queenstown, then fly over there, do a cruise and fly back.
List of all walks in Queenstown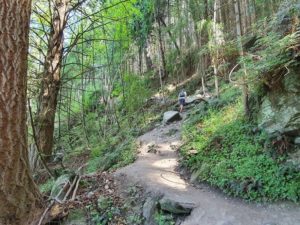 2.1 km • 1 Hour • Medium to Hard • My walk up the Tiki Trail to the Skyline Gondola in Queenstown. I did the ...