Here's our pick of the best walks & hiking tracks in Mt Cook National Park
Aoraki/Mount Cook National Park is rugged, a land of ice & glaciers, rocks & mountains with a stunning alpine environment where you can walk or hike without being a climber. You'll find a list of all our walks & hiking tracks below. Walks are listed randomly and include all the info you'll need. There's track highlights, history, track quality, elevation, length, time needed and a personal run down on what we think about the walk. Mt Cook National Park is an inspiring place to explore with walks from 10 mins to 5 hours.
Check out the Glaciers on your walks
There are five major valley systems with glaciers in Mt Cook National Park: Godley, Murchison, Tasman, Hooker and Mueller. There are also over 150 named smaller hanging glaciers on the mountainsides, which add to the dramatic landscape. Tasman Glacier, New Zealand's largest and longest glacier, is clearly visible from the main road at the entrance of the park. It is 27 kilometres long, up to 3 kilometres wide and extends over 100 square kilometres. Although covered with rock material in its lower reaches, the ice of the Tasman is about 600 metres deep near the Hochstetter icefall.
List of all walks in Mt Cook National Park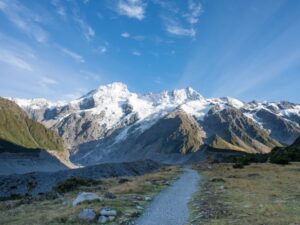 As we hiked the Hooker Valley Track, we saw snow-capped mountains, crossed three swing bridges, and marveled at a glacier lake with floating icebergs!