The Hooker Valley Track was one of our best day walks while visiting Mount Cook
This is the second time we've walked the awesome Hooker Valley Track, this time the sun was out so we got stunning photos.
We had an amazing time we got to enjoy breathtaking views of snow-capped mountains, crossed three fun swing bridges, and witnessed the beauty of icebergs floating in the Hooker Lake – OMG, it was truly awesome!
It took us about 1 hour 30 mins on a good quality track to walk the 5 km (10 km round trip) easy hike along the Hooker Valley walk. The views of Mueller Glacier, Hooker Lake and Aoraki/Mount Cook are just amazing.
We visited in the spring
Not in the dead of winter, so we missed out on seeing even more snow. However, it was an excellent time as there were still icebergs to see and it was not so cold.
We started the walk from the car park at White Horse Hill Campground and climbed steadily up to Hooker Valley, where we enjoyed some stunning views of the surrounding Mount Cook mountains.
We found picnic tables just past the second swing bridge and at the Hooker Lake lookout, we took a break at both and enjoyed the views.
See below for way more details on our whole walk on the Hooker Valley Track.
Quick Facts about the Hooker Valley Track walk
Location: Mount Cook, South Island, NZ
Distance: 10 kms
Time needed: 1 hour 30 minutes one way – 3 hrs return
Difficulty: Easy
Mountain Bike: No
Wheelchair Access: No
Route: Double back
Elevation: 877m
Wet Feet: No

Are there toilets on Hooker Valley Track? There are toilets at White Horse Hill and the DOC visitor centre as well as a helicopter serviced toilet block to service the huge number of tourists located 3.5 km point along the track!

Are dogs allowed on the Hooker Valley Track? Dogs aren't allowed on this track so keep them home

Mobile Coverage:  Cellphone connection is possible for most of the track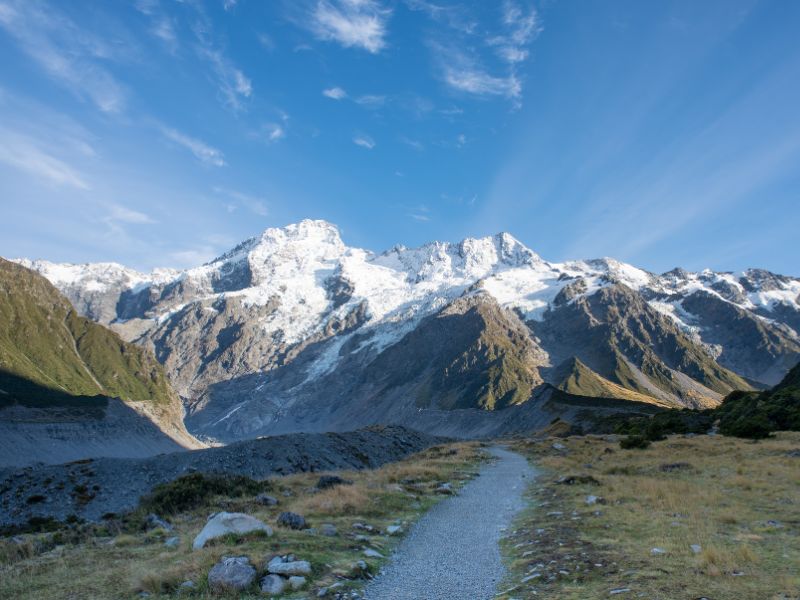 Summary points about the Hooker Valley walk
Here are our detailed points of interest along the Hooker Valley Track walk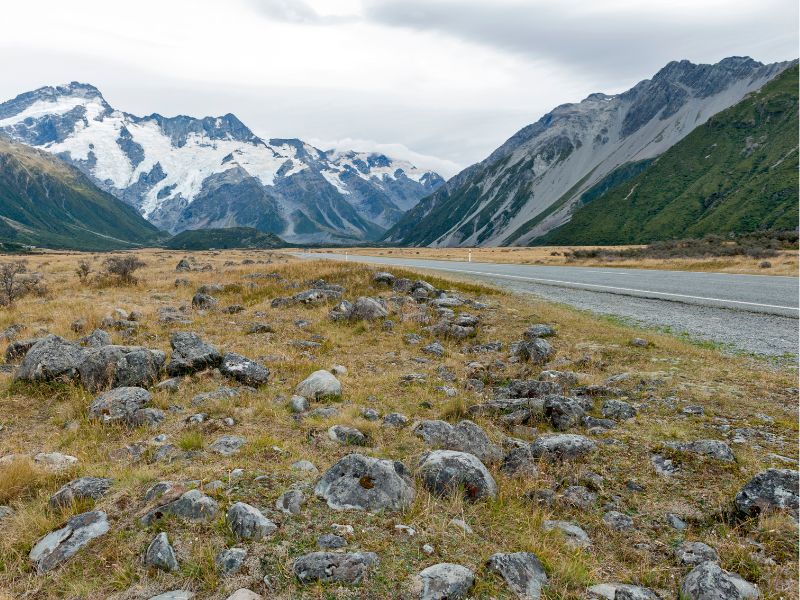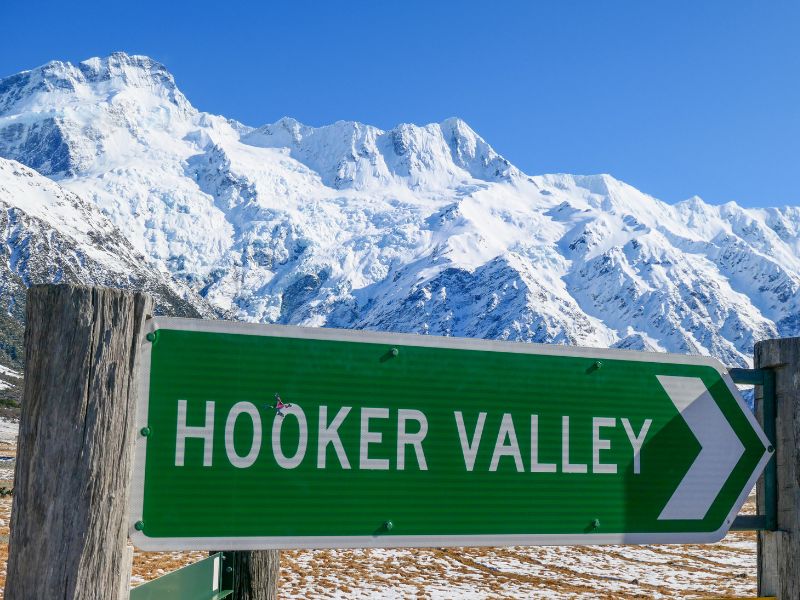 Where does Hooker Valley Track start?
The track starts at the beautiful White Horse Hill Campground, located a couple of kilometres from Mount Cook National Park. The beginning of the walk is just off the car park at the end of Hooker Valley Road.
As you drive up to the Hermitage village take the road to the right out to the Hooker Valley and campground. The track will be easy to find, just follow all the other walkers. You can stay the night at the Hermitage Hotel before setting off on your walk, it's very nice.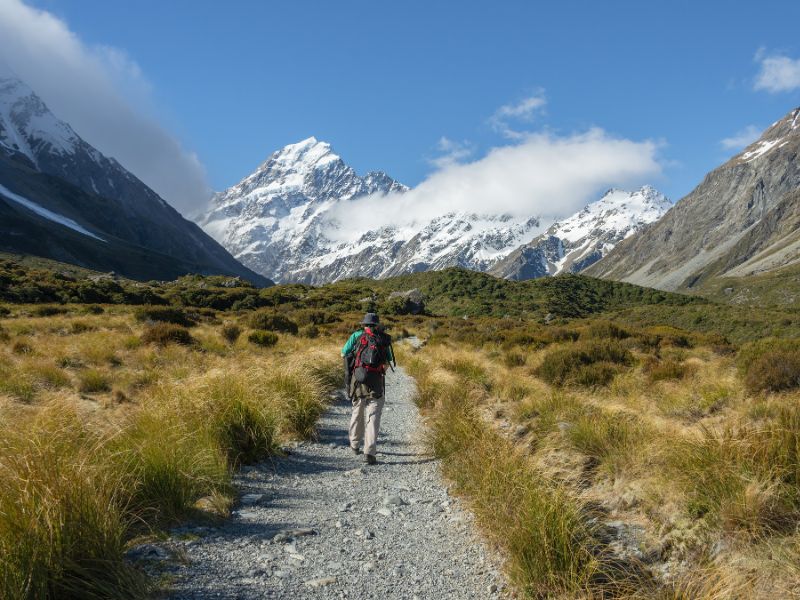 The walk starts off on a well maintained track, but that was short lived. It only took us 35 minutes to reach the first swing bridge, then the track turned to rocks and more rocks. Just before the swing bridge is the turn off to Mueller Lake, we started the Hooker Valley Track walk at 3 pm so as not to miss out on the sunlight shining on Hooker Lake, we gave Mueller Lake a miss.
The view looking up the Hooker Valley was so spectacular we forget to look where we were putting our feet, hence the sore toes at the end of our walk.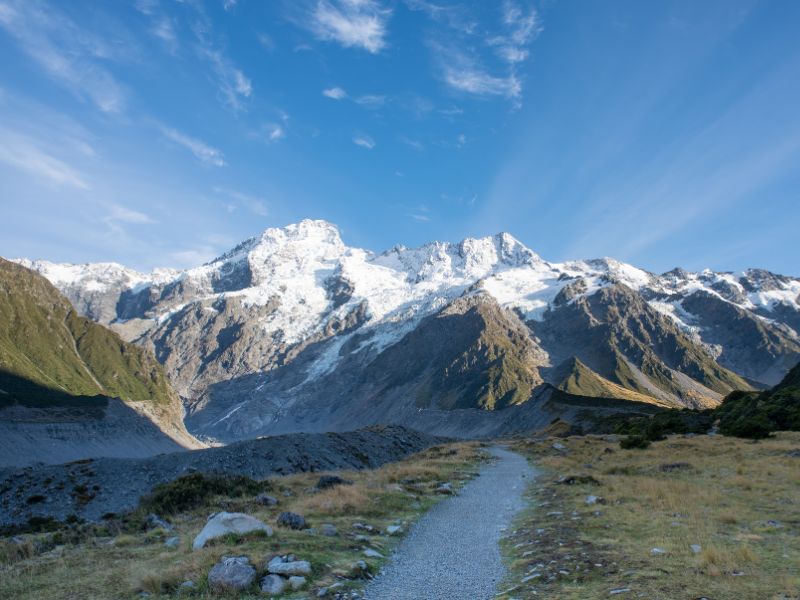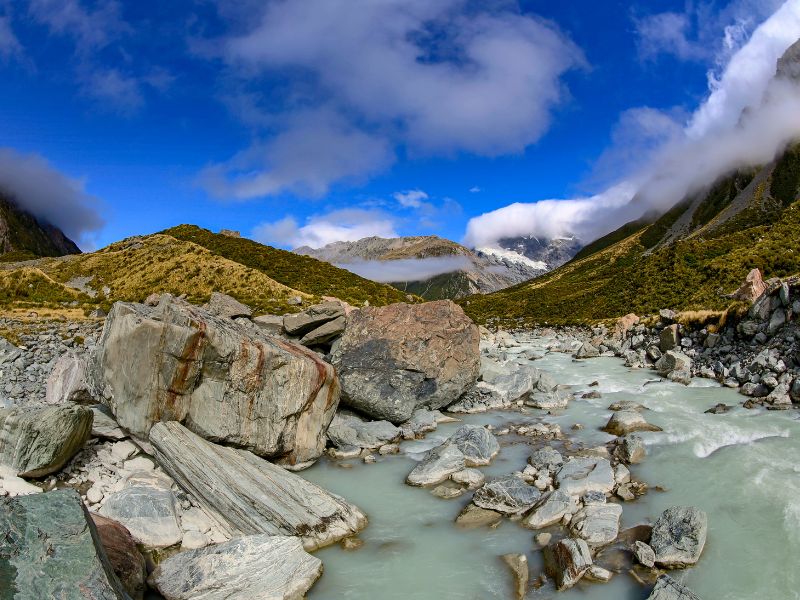 Great photo ops of the first swing bridge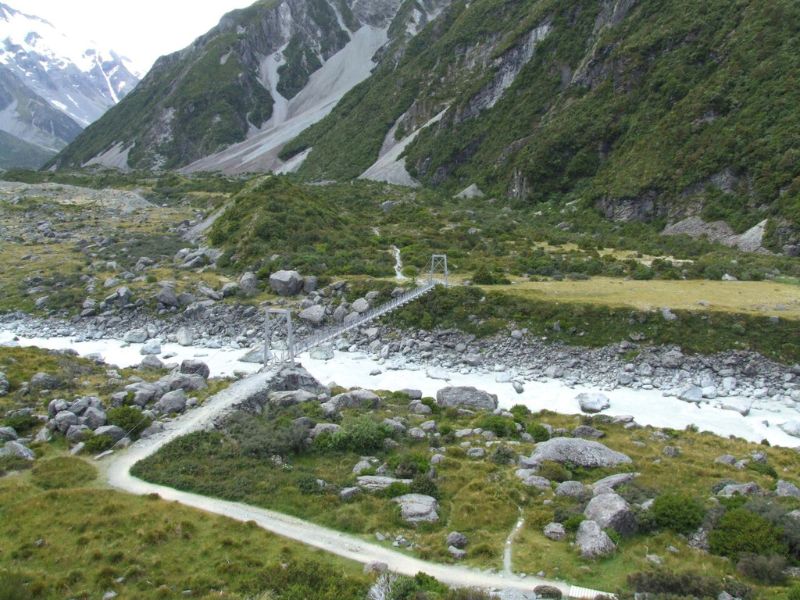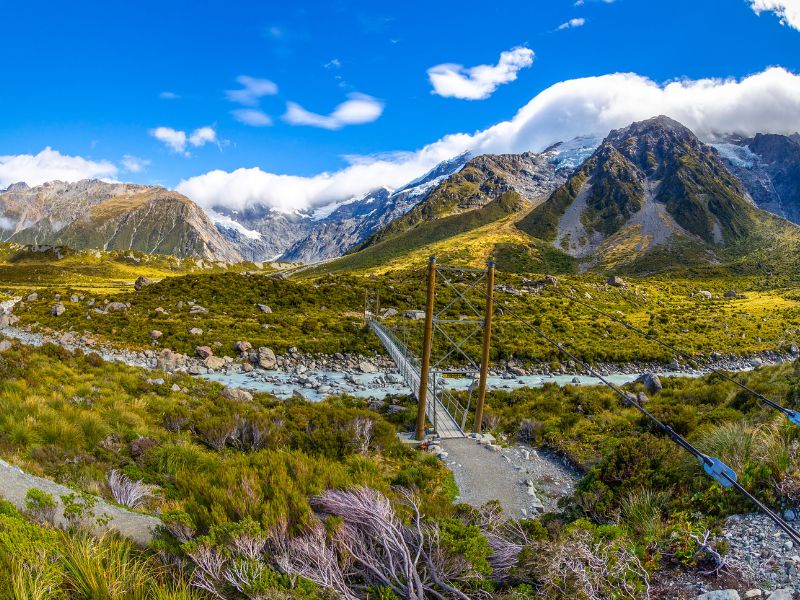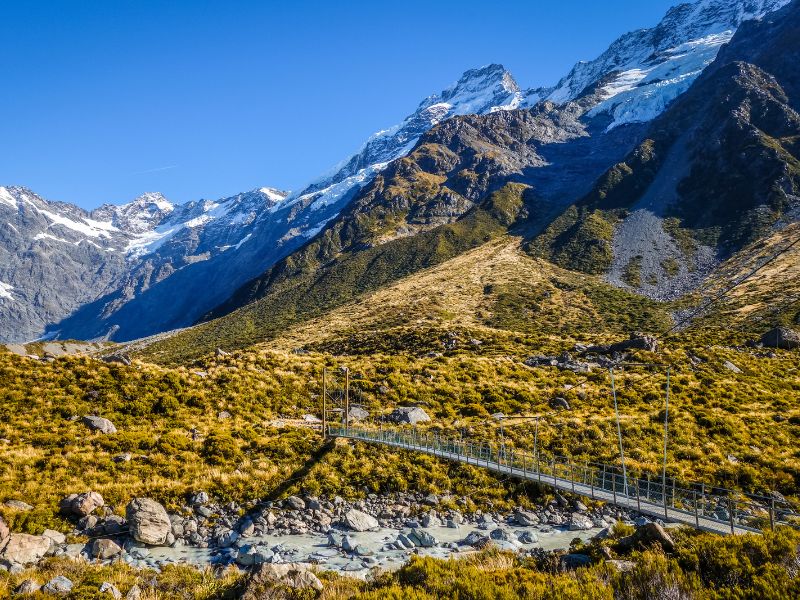 Once you've taken in the breathtaking sights from the lookout, the track leads you down a few steps and onto the wicked swing bridge. The views from this bridge are absolutely fantastic, and you'll have a chance to gaze down at the roaring Hooker river below.
For those looking to keep it short and sweet, this spot is only 1 kilometer in, making it a perfect natural turnaround point for a quick and delightful walk.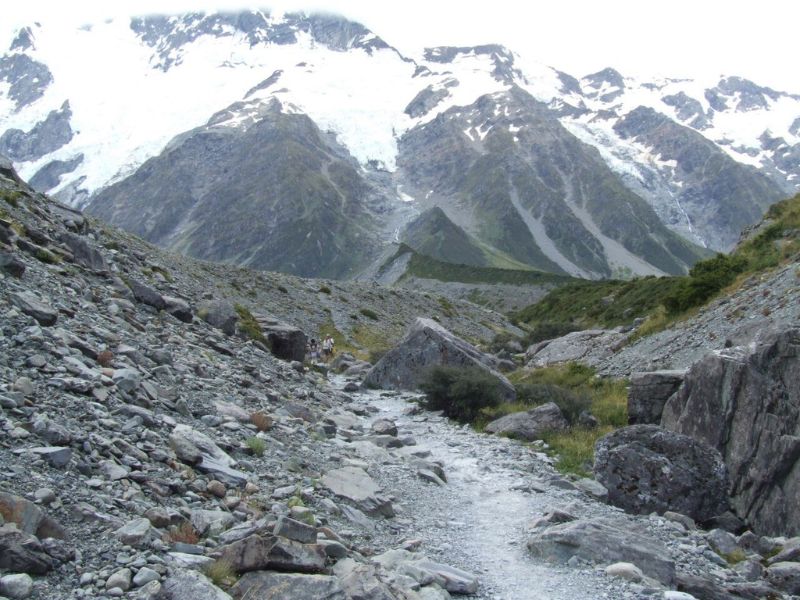 The second swing bridge - WOW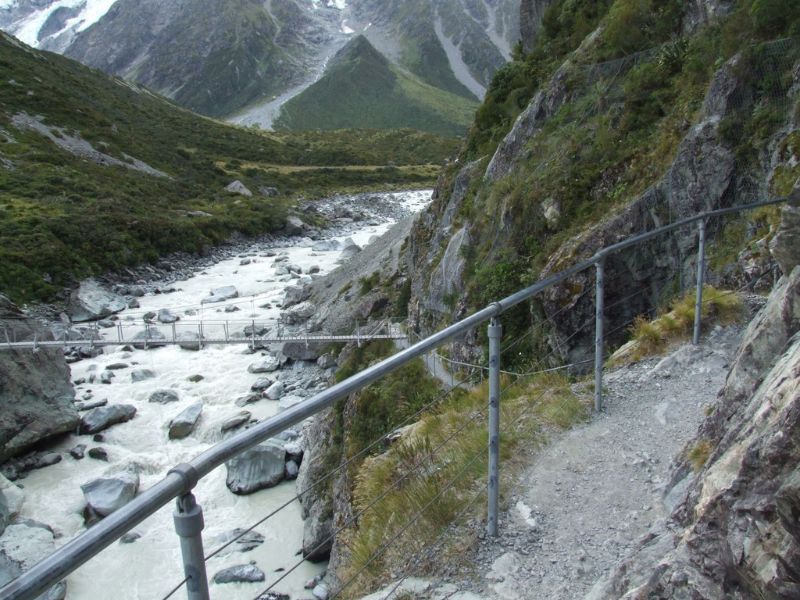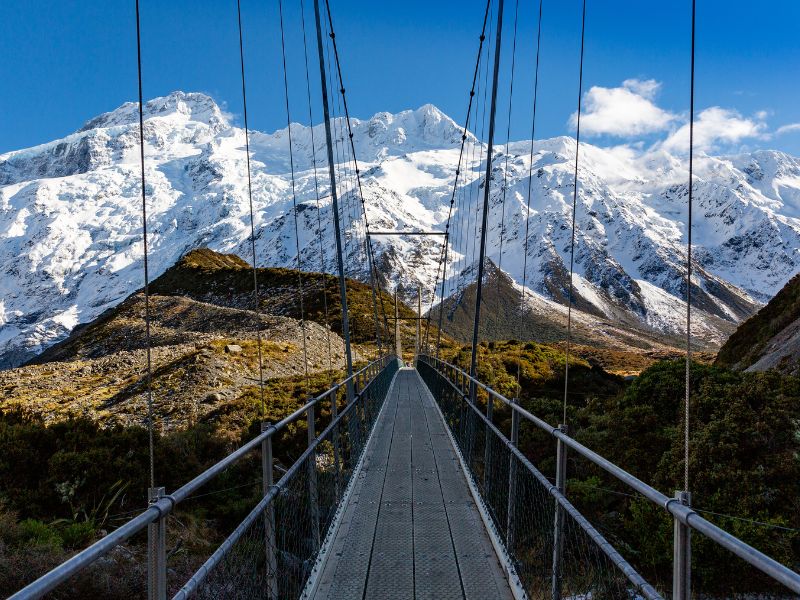 The next swing bridge is just a bit over 1.1 kilometers away, but the walk there is an absolute treat! As you continue, you'll be treated to even more jaw-dropping views of the majestic mountains and the winding river. Plus, the walk keeps things easy with a gentle, well-graded gravel path. 
From this swing bridge to Stocking Stream was only 15 minutes of rock walking.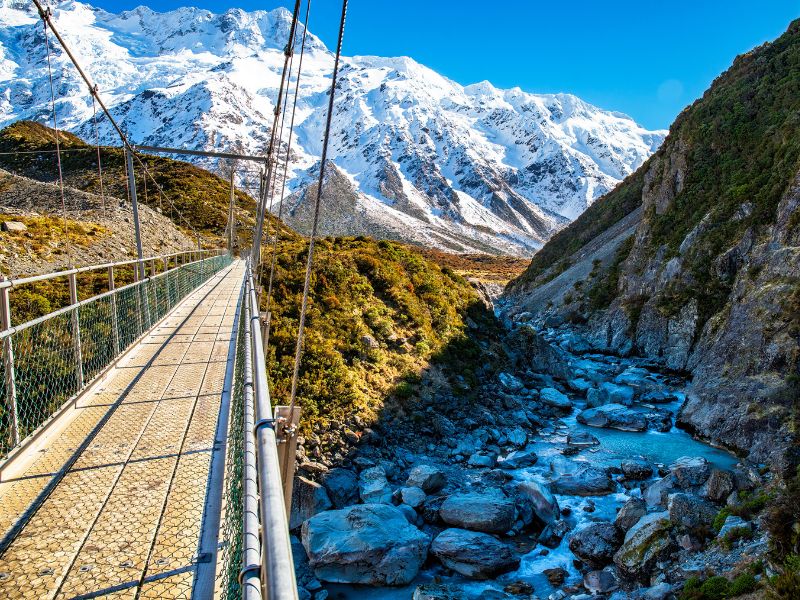 Walking on the stunning boardwalk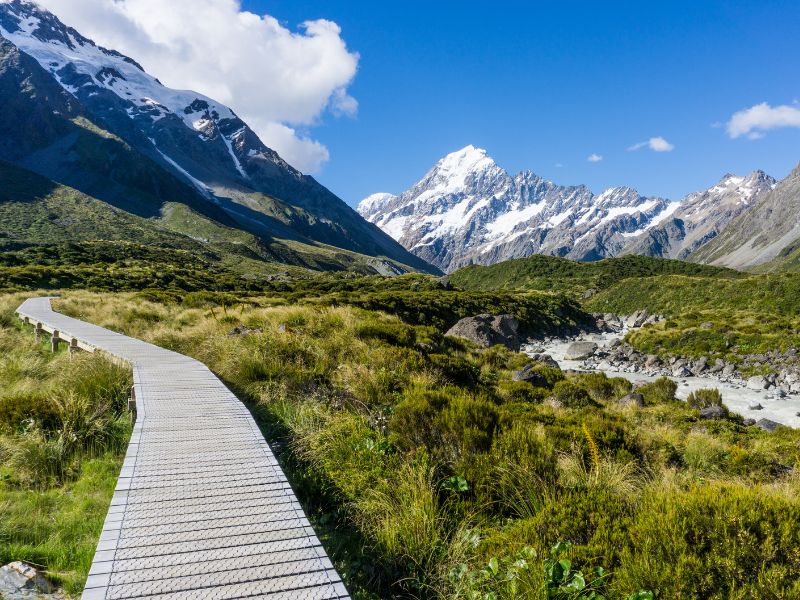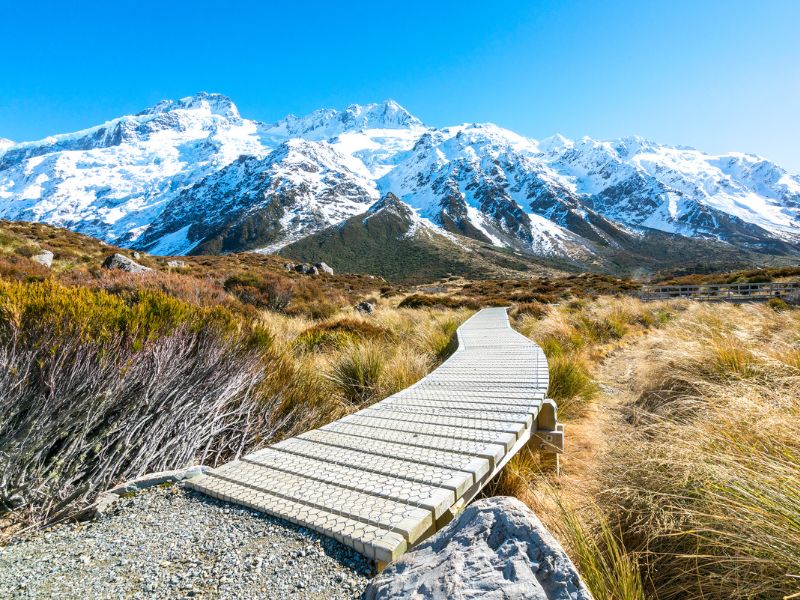 Just a few hundred meters past the second swing bridge, you'll find yourself walking alongside the river on the boardwalk, and that's when you'll catch your first spectacular glimpse of Mount Cook.
This spot is an absolute gem for taking photos, especially if you're fortunate enough to have a clear, unobstructed view of the entire mountain, which we did today. But don't worry if you don't get that perfect shot right away – mountain weather can change quickly, so there's a good chance you'll get another go on your way back.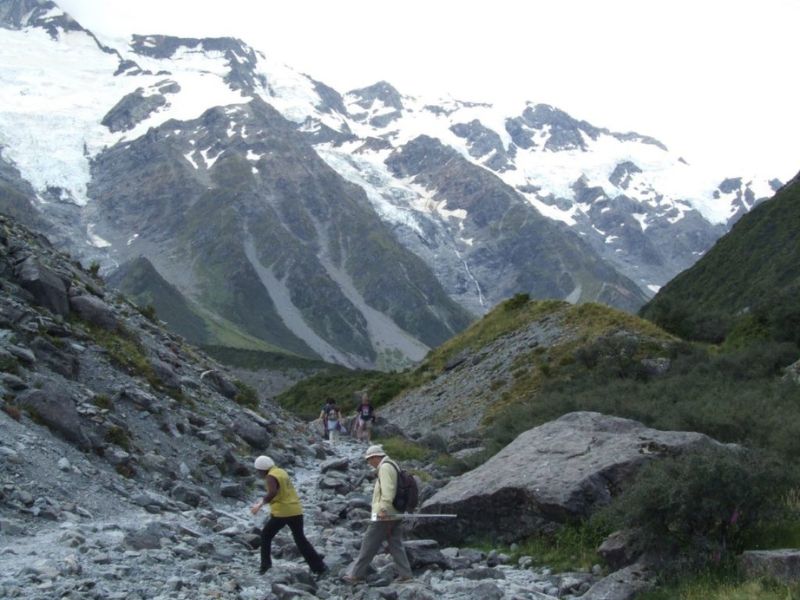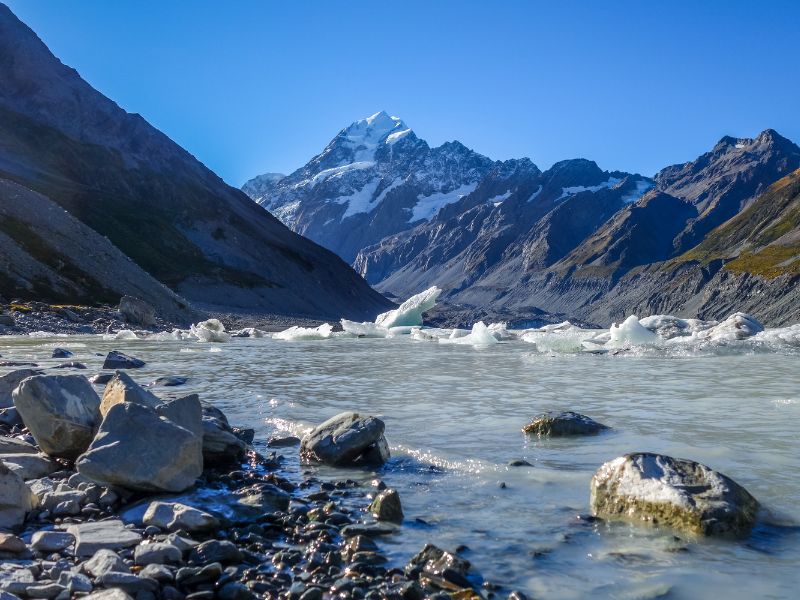 20 minutes of walking over even bigger rocks will see you at Hooker Lake, it's truly fantastic.
Make sure you get to Hooker Lake before you lose the sun otherwise you might freeze. Now turn around and go back the way you came. This is where we saw those amazing floating icebergs. We really enjoyed this walk.
We made sure to pack plenty of water and snacks, as there are no food or drink options along the walk.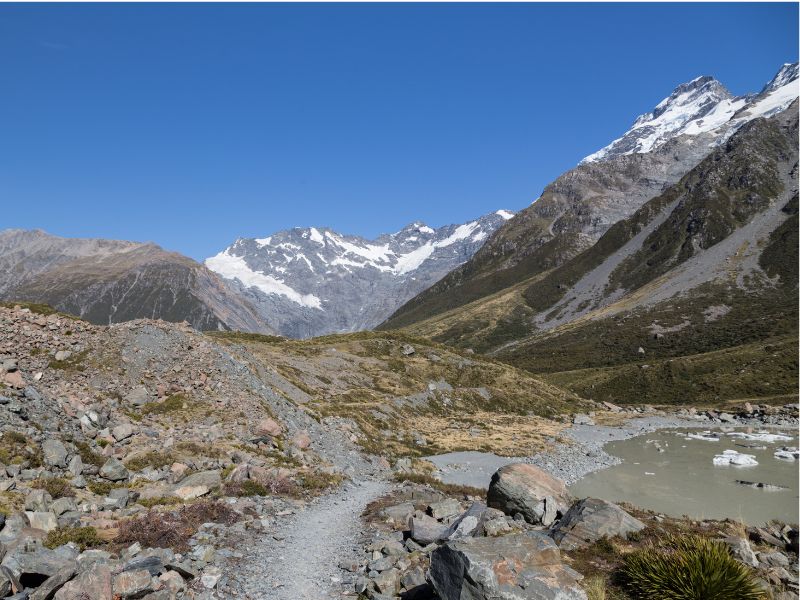 Amazing icebergs on Hooker Lake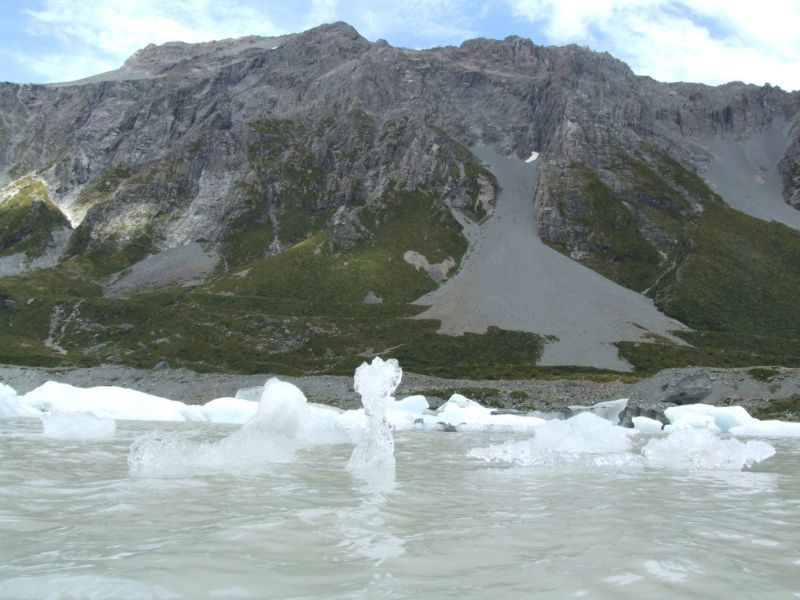 We were lucky enough to see these awesome icebergs in Hooker Lake. We picked the best time of the year to walk this track in September, when it's not too cold and still plenty of snow around.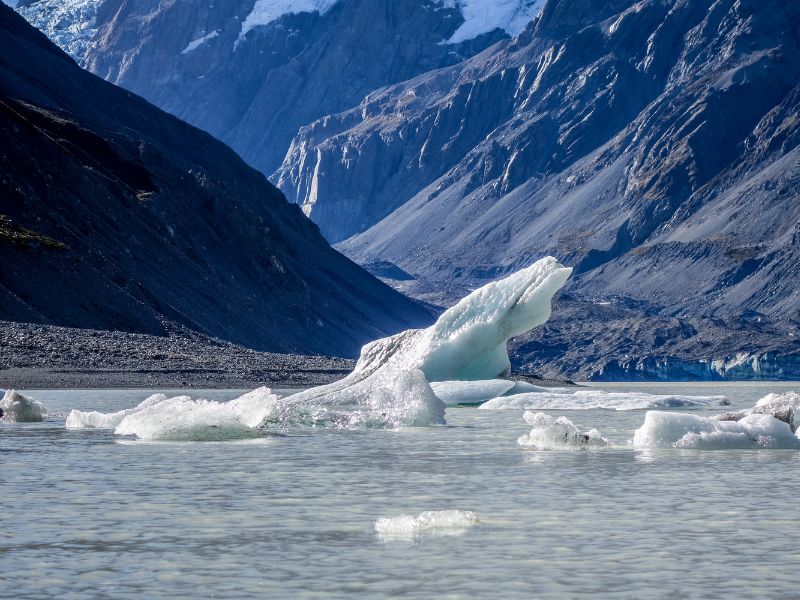 Hooker Valley Track Weather
It can be really cold most of the year, even in summer. The weather can change quickly so make sure you're prepared, even if its sunny. We did a quick weather check before we headed out, and decided it was best to pack a rain coat as well.
The track can be quite icy and slippery in winter, make sure to wear sturdy hiking boots, warm clothes, a good rain jacket and walking poles would be handy too.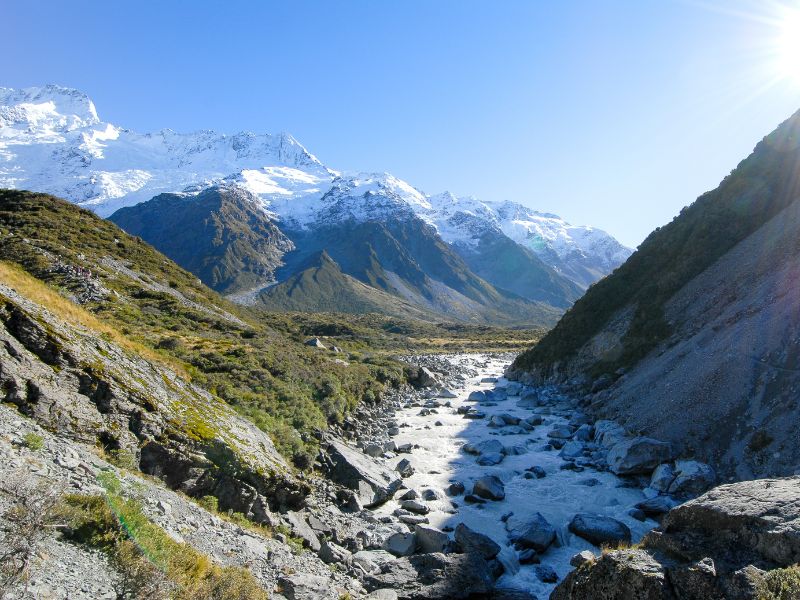 My tips to get the best out of your day walking the Hooker Valley Track
Stay in Mount Cook Village: If Mount Cook and the Hooker Valley Track are at the top of your list, consider splurging on accommodation in Mount Cook Village at the Hermitage. It might be pricier than Twizel, but it allows you to track the weather more accurately. If you're staying outside the area, you can always call the DOC office in Mount Cook for a real-time weather update.
Check the Weather Early: Ideally, choose a clear day for this walk to enjoy the best mountain views. Keep in mind that the weather can change rapidly. We've gone from a full whiteout to clear skies in just 10 minutes and vice versa. If it's overcast at Hooker Valley, you can head to the Tasman Valley and try the Tasman Glacier Track, which is often clear when Hooker Valley isn't. Then, return to Hooker Valley later.
Avoid the Crowds: The Hooker Valley Track can get extremely busy, especially in the summer. For a more peaceful experience, consider going early in the morning or catching the sunset. Just remember to allocate enough time, as you'll likely stop a lot to soak in the breathtaking views and snap photos.
Sunset at Hooker Lake: Hooker Lake makes for an excellent sunset spot, and walking back in the dark is quite manageable. However, be aware that some sections of the track might be in shadow before sunset, so this might not be ideal if you want brightly lit photos for your first visit. It will also be very cold so rug up!
Pack for Changing Weather: Be prepared for the unpredictable weather in the Mount Cook region. Always carry rain gear and warm clothing, even in the summer. It's not uncommon to experience snow during the warmer months. On the flip side, the weather can clear up surprisingly quickly, so a little patience can be rewarding.
Weather Apps, use With Caution: Don't solely rely on your phone app for weather updates, as it can be less accurate for Mount Cook. 
Plan for More Than One Day: If Mount Cook and the Hooker Valley Track are high on your agenda, allocate more than one day for your visit. Sometimes, the mountains remain hidden behind clouds for a couple of days, only to reveal themselves in all their glory on the third day.
Remember, flexibility is key when exploring the Hooker Valley Track, as Mother Nature often has her own agenda.
Hope you enjoy the walk as much as we did! Let us know if the comments section below.
Where should I stay for Hooker Valley Track?