Copland Track to Welcome Flat Hut
Drive 26 km south of Fox Glacier and enjoy this medium walk up the Copland Track to Welcome Flat hut and enjoy a soak in the hot pools.
Let's be honest, the main reason you're considering the Copland Track is because of the alluring natural hot pools waiting for you at Welcome Flat Hut.
I was the same and I can confirm that the 16km relatively mundane hike through the river valley and forest to get there is absolutely worth it.
Setting off from the car park
You may wish to leave your boots off in readiness for crossing Rough Creek, when I crossed it was around my ankles and no problem at all however as there is a bridged detour further upstream I expect this isn't always the case!
The first section of the track
Is well maintained, a smooth wide track guides you from the other side of Rough Creek. Don't be fooled though as the track isn't this well maintained the whole way and soon becomes rocky and slippery in places.
Walked in June
I undertook this hike in June in good weather conditions, daylight was short however and temperatures were a little crisp so the hot pools were very much appreciated. I would not deter you from considering this hike in the winter months, less sandflies waiting for you were a real bonus, a less full hut and enjoying the pools in the dark early evening was a treat especially if the sky is clear.
The track is a long 16km
And there isn't too much along the way to entertain you so it does seem an extra long way. There are some nice swing bridges though that are among some of the longest I have seen in New Zealand. There are a few lookouts along the track, these are of the Copland river that the track follows.
You also pass the two bunk Architect Hut
Which provides a well timed toilet break. Shortly after leaving Architect Hut the track starts the majority of its incline, this is slow and steady but not too strenuous (as I have said before it is just long).
The 31 bunk Welcome Flat hut (sometimes referred to as Copland Hut)
(The hut must be booked no matter what time of the year you go) Welcome Flat hut is nice, there were four separate bunk rooms and not a bunk bed in sight! There is a private Sierra room that you can book and a campsite too. I imagine in summer this place is packed so again I would consider outside of summer too (did I mention less sandflies?!)
My tip would be to spend two nights at the hut.
It's a long way to get there so give yourself the time to enjoy the pools and explore around the hut a bit, maybe even venture up to Douglas Rock Hut.
Welcome Flat Hot Pools (sometimes referred to as Copland Hot Pools)
Natural HOT pools, the main reason you will be considering this hike. Well deserved at the end of the day.
The track returns the same way…
…as you came and you can enjoy the slow decline returning to the car park.
Quick Facts about the Copland Track to Woods Creek
Location: Fox Glacier, West Coast, South Island, New Zealand
Distance: 16 km
Time needed: 7 hours one way to Welcome Flat Hut
Difficulty: Medium
Mountain Bike: No
Wheelchair Access: No
Route: Loop Walk
Elevation: 450m incline, steady and mainly awards the end
Wet Feet: River crossing at the start (or walk an additional 3km upstream to bridge crossing)
Toilets: Toilets in the car park at the start, at Architect Hut 9.5km and at Welcome Flat Hut
Dogs: No, not allowed
Camping: Camping at huts available
Mobile Coverage: No
Last Updated: March 2022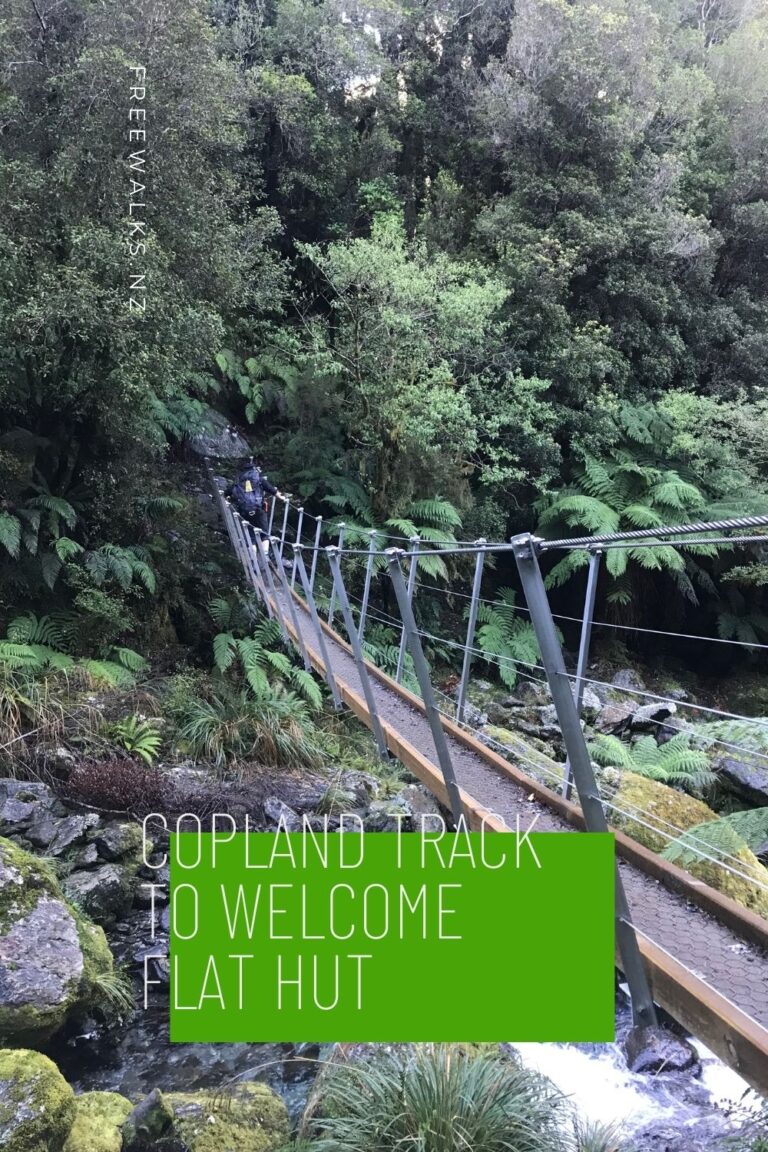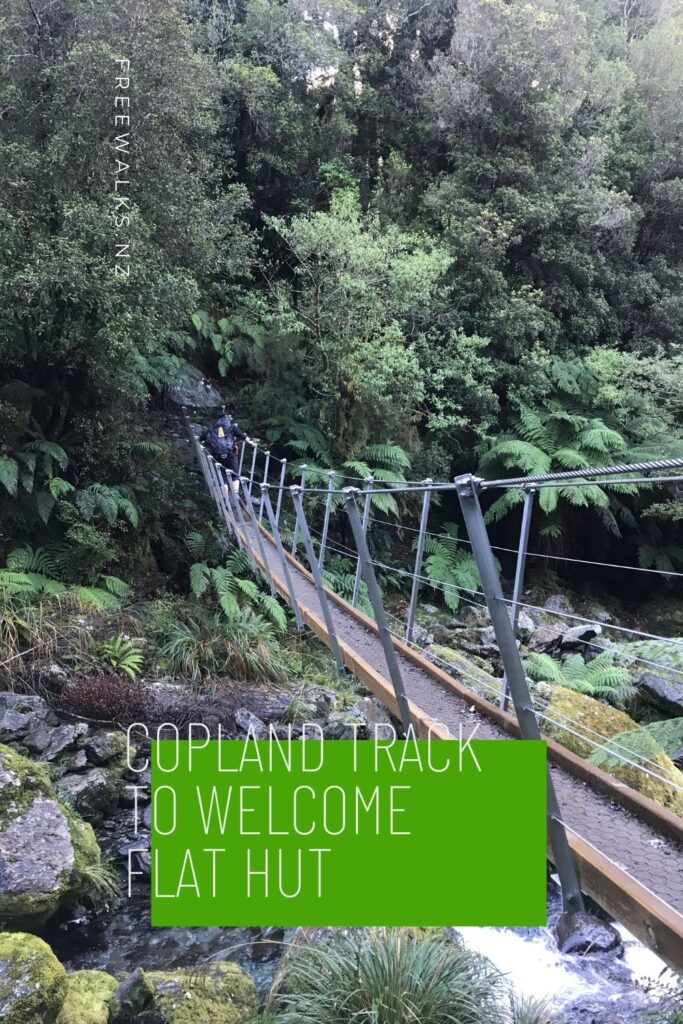 Summary points about this walk
Plenty of swing bridges to cross
Multiple swing bridges along the way, these were nice to break the journey up and are always good fun!
More walks in Fox Glacier near the Copland Track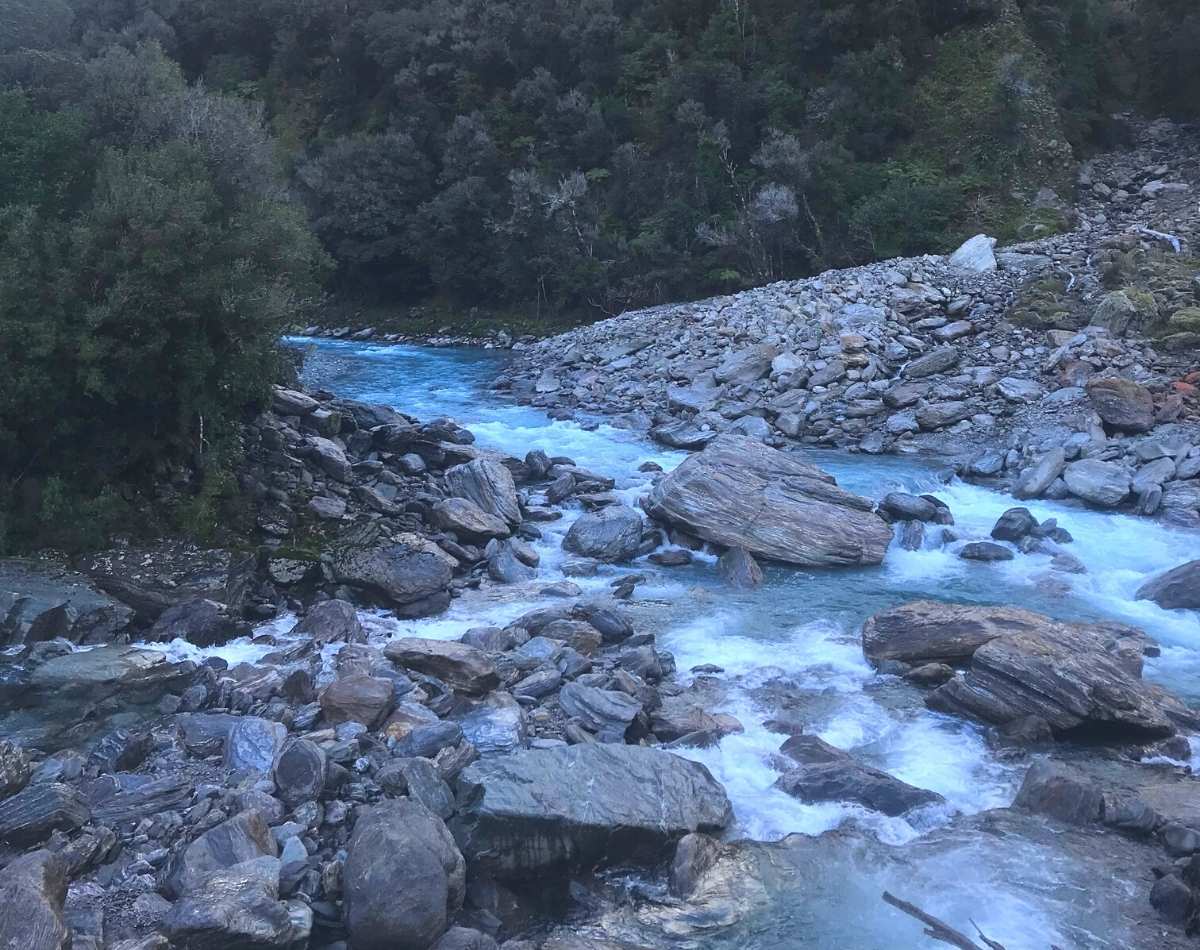 16 km • 2 days • Medium • Drive 26 km south of Fox Glacier and enjoy this medium walk up the Copland Track to Welcome Flat hut and enjoy a soak in the hot pools.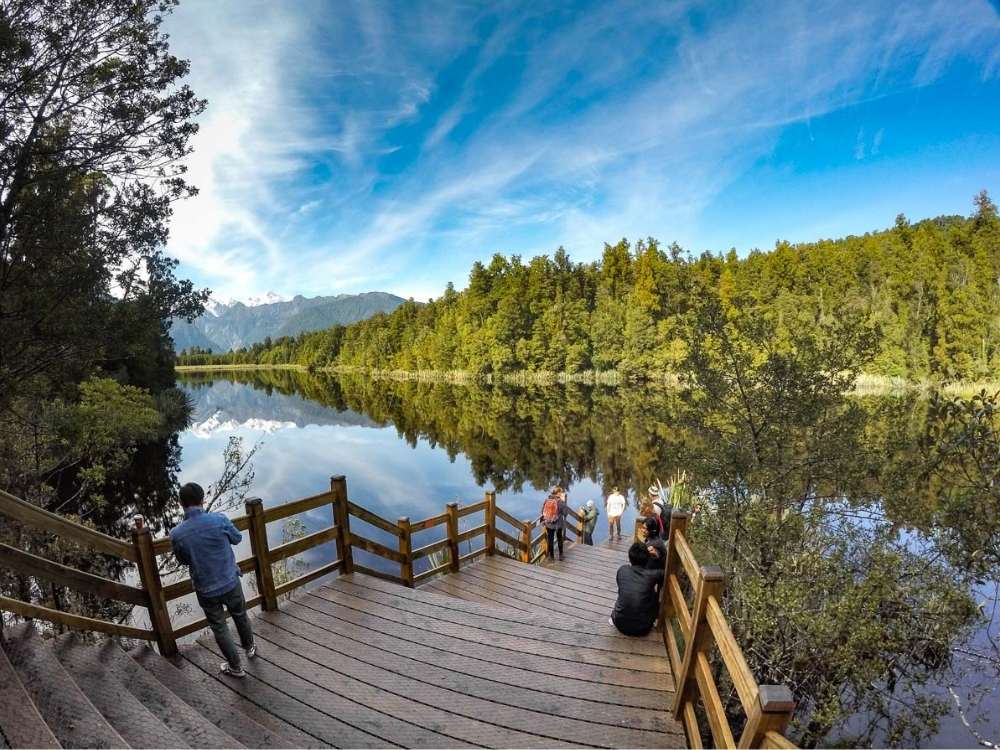 4 km • 1 Hour 30 Minutes • Easy • Not far from Fox Glacier township. Take in the stunning mirror reflections on Lake Matheson.
What sort of walking and hiking gear will you need
We've partnered with Macpac outdoor walking & hiking gear to bring you the very best products designed exclusively for our New Zealand climate. They'll ship for FREE within NZ on orders over $100 (if under $100 it's only $5). Worldwide international shipping is available except to the USA. Bulky orders will be $20.