The Oakley Creek Te Auaunga (whirlpool or swirling waters) Walkway itself is a one-way track, and we wanted to include it as part of a bigger circular walk. And today we did it!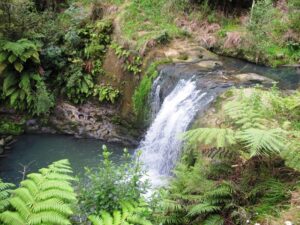 There was a lot of water in the creek today and the 6 metre high waterfall was in fine form.  Walk down the steps for a better view.
Quick facts about this walk
| | |
| --- | --- |
| Walk time: | approx. 60 minutes. |
| Distance: | about 4 kms |
| Start: | Cadman Avenue (off Fairlands Avenue/ Great North Road) |
| Track: | A mix of level paths, steps and slightly inclined paths. |
| Difficulty: | Suitable for users of average fitness and mobility. May require boots in wet weather, running shoes suitable in dry weather. |
| Highlights: | Water birds Habitat, waterfall, Oakley Creek |
| Dog Friendly: | There is off-leash dog exercise areas |
| Facilities: | Children's playground, flying fox |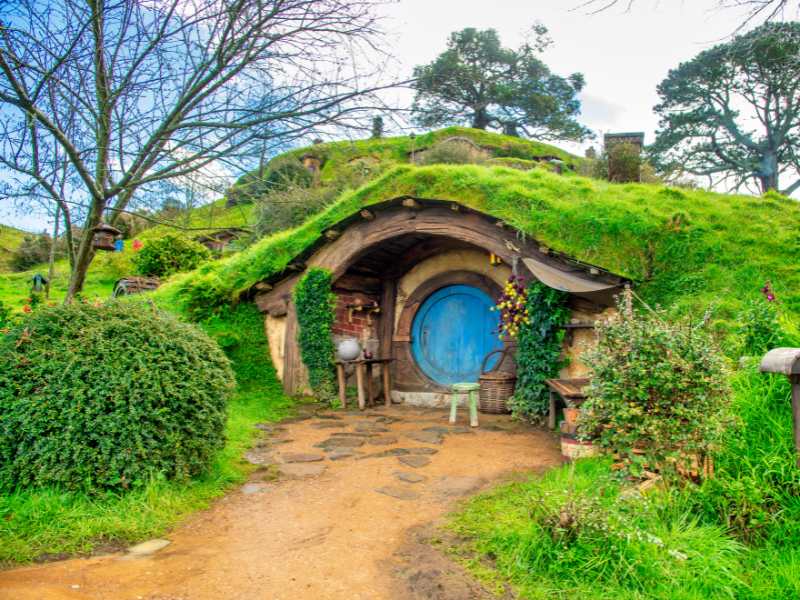 The Hobbiton Movie Set Day Tour - From Auckland
Oakley Creek flows from Hillsborough, through Mt Roskill, Owairaka and Waterview to the Waitemata Harbour, making it one of Auckland's longest urban streams. Oakley Creek is also home to the New Zealand longfin eel which is threatened, so fishing is not allowed.
The Friends of Oakley Creek is a project to help preserve and protect the creek. The Friends of Oakley Creek have been doing a fantastic job with restoration and keeping the creek maintained, clean and improving the water quality.  This is a volunteer organisation, and they continually seek help with their efforts – lend a hand if you can.  If you would like to get involved, visit their Facebook page: Friends of Oakley Creek .
You can walk through native bush, wetlands, see water birds and enjoy the peace beside Oakley Creek. We have decided to create two separate loop walks – one a northern loop, the other a southern loop.  You may wish to get both and link them together for a longer walk.
Children's playgrounds in both walks – the southern loop Heron Park has a flying fox.
Both loop walks take in off-leash dog exercise areas (dogs on leash alongside the Creek). 
Map location and how to find Oakley Creek Loop Walk
Comments on Oakley Creek Loop Walk
Hi there,
After finding this site I went off to Oakley Creek today and was really disappointed. While the place itself was beautiful, there was no signage and the maps were very unhelpful. There were several forks in the pathway and I ended up not seeing any waterfalls at all! In fact, i didn't see anything of the things I was promised =(. Is anybody able to help me find a more helpful map? Thank you!!
Hello Emma,
Sorry to hear that you were disappointed with Oakley Creek. It really is a lovely walk once you work out where you are. The reason why we started this website is because of what you describe – unhelpful maps and lack of signs. The map at Oakley Creek has 'You are here' in two different places!
We have made a self-guide brochure for Oakley Creek that you can buy from our Store if you wish to explore again. It really is worth persevering – we are so lucky to have so many beautiful parks and reserves in Auckland to discover.
Best wishes. Helen
I've walked Oakley Creek at least 3 times a week for the last couple of years. In my opinion it is the best walk within the city. It has a very distinct feel, after years of neglect and being used as a dumping ground, the bush has survived and grown, and hosts a lot of natives thanks to the planting group (be nice to see the privot gone). It has a wild feel, and you wouldn't know your within the city. The old oaks give it a seasonal feel but the stream which is different every day makes the walk.
Thanks for sharing your experience Merv. I agree, Oakley Creek is wild and beautiful.
Awesome walk with the kids. I can understand Emma's points above, you just need to make sure you remember which way you cam from. There are lots of forks going up to streets as there are multiple places to start/finish the walk. Overall, we loved it!
Many thanks for your feedback Lucinda! That's what we like to hear. 🙂 Really pleased you enjoyed the walk. Regards, Helen
Hi
My daughter decided to get married at this waterfalls. Does anyone know the distance from car park to the waterfalls. My mum is old and I want to be prepared before I take her to attend the wedding.
Thanks
Sophy