The reserve is a large wetland (see the pukeko and other water birds) with paths suitable for walking, jogging, wheelchairs  (not electric wheelchairs) and cycling (paths not suitable for small wheels like scooters).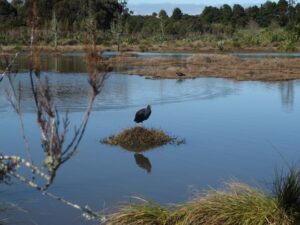 Quick facts about this walk
| | |
| --- | --- |
| Walk time: | approx. 30-60 minutes depending on what you decide |
| Distance: | about 3.3 kms |
| Start: | Car park off Grand Drive |
| Track: | Mostly level paths with very slight inclines. Suitable for users of average fitness and mobility. |
| Difficulty: | May require boots in wet weather, running shoes suitable in dry weather. |
| Highlights: | Wetlands, Ducks and Pukeko birds habitat. |
| Buggies/Wheelchairs: | suitable for prams/buggies with large wheels. |
| Dog Friendly: | Yes – There is Off-Leash Exercise Area |
| Facilities: | Picnic tables, Children's playground, viewing platform, basket ball half court, Skate park, Cafe |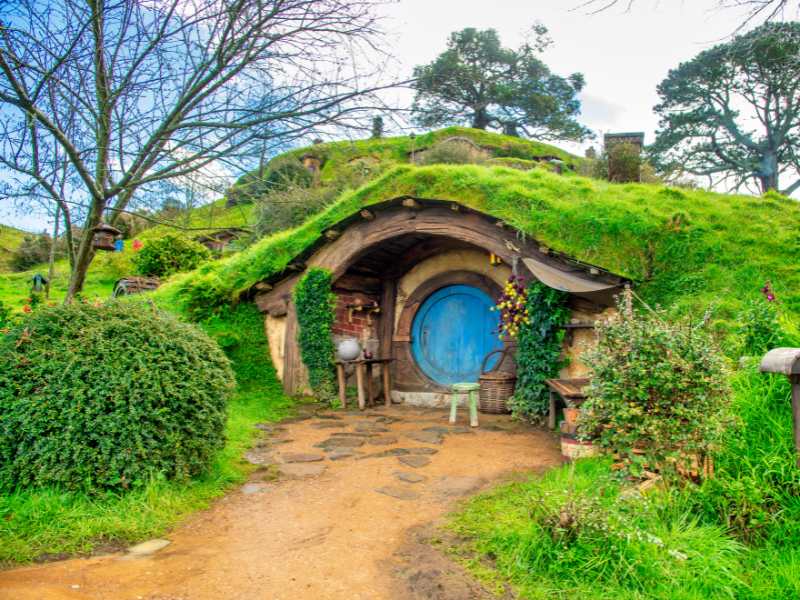 The Hobbiton Movie Set Day Tour - From Auckland
The walking route is also suitable for prams/buggies with large wheels.
It has a children's playground, picnic tables, viewing platforms, a basketball half court, and a skate park.
This is a dog friendly, mostly flat walk  (watch out for puddles after rain) with an off-leash exercise area. It has been called "Auckland's best dog park" (See other Dog Friendly Walks).
In some places, you could imagine that you are a long way from civilization, because all you can hear are the birds and all you can see are trees.
The walk is signposted to be 60 minutes long, we walked just over 3 kms, which makes it a short family friendly walk.
Suggested Cafe: Hollywood Bakery in Lunn Avenue
Map location and how to find Waiatarua Reserve walk
Comments on Waiatarua Reserve walk
Hi There , My daughter has a electric wheelchair. We tried the Waiatarua Reserve and couldn't get the wheelchair through the car-park barriers . Then we tried the path next to the Slide and there was a big curb to lift a 250 kilo wheelchair over it we decided to pass. So we tried the the coastal walk and all we found was a car-park and a boat ramp.
It was disappointing . Any chance you can post me walks that are wheelchair friendly please. Thank you
Kind regards
Hi Kran.
Thank you for taking the time to let us know about your difficulties. Apologies for the delay in getting back to you (we have been on holiday).
I must admit, we didn't think of electric wheelchairs when we were doing our walks, and having your problem brought to our attention, we can only imagine how difficult it must be to get out and about.
We will make a note in our posts that the Waiatarua Reserve is not suitable for electric wheelchairs.
I am both sure which coastal walk you are referring to.
I suggest that you contact Auckland Council for a list of electric wheelchair friendly walks – http://www.aucklandcouncil.govt.nz/en/forms/pages/contactusonline.aspx
Regards, Helen
Watch out for the arrogant dog owners who allow their dogs to run riot and misbehave and take over the pathway if you are a mere pedestrian without a dog. The arrogance of dog owners in the park is duly noted by this local resident who is dog-less. I have had many less than favorable experiences thanks to dog owners who show no consideration for other human beings in the park enjoying walks, too. They expect mere pedestrians to give way to them and their dog by going off the path, rather than pull their dog in if on a leash. They also will allow their dog to shake water off from the pond all over someone just walking slightly ahead. I had this experience today and the owner did not call their dog back nor apologise when it sprayed water all over me by shaking off water from the pond. In fact, they seemed angry when I looked back with some displeasure at this experience. I am sure if this person had someone else and their dog do that to them they would have reacted negatively. These people need to remember there are people without dogs who pay for the upkeep of this park and expect better manners from the dog owners. Less arrogance on thinking it is a "doggie park" first and foremost would be appreciated by those who are not dog owners.