I started this walk at Takapuna Beach on The Strand road and ended on the main road of Devonport on Victoria St
The day is pretty typical of Auckland, overcast, just had a little shower of rain and now the sun's coming out 5 minutes later. I caught the 9.30am bus from the Devonport ferry building to Takapuna. I'm going this way because its Sunday and the Takapuna markets are on today, lots of interesting food and things to see.
Apparently, the bus driver didn't know where he was going and needed directions should be an interesting trip! Just me and one other person on the bus. I had a look around the op shops while in Takapuna before I actually started the walk. Full details of the walk are below with points of interest. Check out my cool 3d video map too, it shows exactly where the walk goes.
This walk has a few signs on it but not everywhere and you can easily go down the wrong road. Here are some directions for the Takapuna to Devonport Route.
Start of walk: Takapuna Beach – The Strand (cul-de-sac)
From the beach, first left into The Strand
First left Gibbons Rd
First right into Bloomfield Spa
First left into Lake Rd
Walk to traffic lights and cross diagonally to the other side of Lake Rd
First right into Napier Ave
First left into Eldon St
First right into Harley Rd then into Harley Close, keep following the path till you hit the T junction with Hart Rd
Turn right into Hart Rd
First left into Francis St
Follow Francis St all the way to the end, the path will turn off the road and along a boardwalk.
Keep following the walking track over the bridge 
You'll cross over Bayswater Ave and walk alongside Bayswater park until you hit Roberts Ave.
Left into Roberts Ave
First right into Plymouth Cres
Approximately 6 houses along look for the sign and turn right off the road onto the walking path.
Follow the track until you hit Merwood Lane
Turn right into Merwood Lane
At the T junction turn left into Kawerau Ave
First right into Regent St
Second left into Ngataringa Rd
At the T junction with Lake Rd, turn right.
Walk straight down Lake Rd, just a short walk past Seabreeze Ave (which is on your left), on the right you should see a big sign and the walking path into a small bush/trees. Turn right here and take either path, they both end at the same place. 
Follow the path until you reach Victoria Rd.
Follow Victoria Rd all the way into Devonport shops. If you keep going to the end you will run into the ferry buildings.
End of walk: Devonport Shops
My 3d map showing the route - click on the play button to see it in action
Sorry, it might not be totally exactly the same as the directions above as I'm sure I took a bit of a wrong turn in one place, but you'll definitely get to see the general overview. The photos are exactly where I took them.
Quick Facts about this walk
Location: Takapuna, Auckland, North Island, New Zealand
Time needed: 2-hour walk
Distance: 8 km
Difficulty: Easy
Bikes allowed: Yes. This walk is also a bike track and would take 1 hour to complete
Route: One way
Elevation: 111 m
Wet Feet: No
Toilets: Yes at the start of the walk
Dogs: Yes
Mobile Coverage: Excellent
Last Updated: July, 2020
Summary points about this walk
Points of interest along the walk​
Start of the walk from Takapuna to Devonport
The walk started off nicely, just went to a very gentle uphill and then took a left, walked through some very pretty upmarket houses. Then on to the main road. Walked along here for a bit then crossed over at the big set of lights. Now I've just come down a side street and basically smack bang into just more regular housing, nothing very pretty. I do have a little view of the Auckland Harbour Bridge which is kind of nice.
After walking residential streets I'm now on a very nice big wide boardwalk that's comes down to meet the water. The tides out so doesn't look quite as nice. I will share the path now with bikers. If you walk down just a little bit you get views of Auckland city.
The path is very pretty and now very wide, good concrete quality track. I've now just come out to where the track meets the water again with a beautiful view of the Auckland Harbour bridge. Lots of people out walking their dogs and running on this (now) fine sunny day in Auckland.
Just got to a big huge wide footbridge, wow the views are amazing, I can see the Auckland Harbor Bridge, I can even see the Sky Tower poking out above the houses. Pity the tide wasn't in, but none the less still beautiful.
Trees and peeps of the city
I've just walked through some more boring houses on residential streets, but wasn't too long. Back on the track again, walking under some lovely trees on a nice concrete path. Enjoying peeps out to Auckland city now, very nice.
Turn off to Ngataringa Park
I just walked through some more residential houses and popped out on to the main road that goes from Takapuna to Devonport, it's the only road in and out and can get seriously busy with traffic. Across the road is the golf course, lots of people out enjoying themselves playing golf today. Weather is still holding out, lovely, hasn't rained yet, beautiful and sunny. A bit confused as to which way to go but doesn't matter as both paths will take you to the same place. Continue on the boardwalk and through Ngataringa park which looks lovely.
You're now officially in Devonport, you can tell that by all the super cute Victorian houses. It's fantastic how everybody's done up their houses, they just look beautiful. You could just easily walk around more of the local streets here, and you'll find even more stunning cute little houses. Mount Victoria is right in front of me, I'm not gonna walk up there today as it's not officially part of this walk, but I will put it on as another walk cause of the stunning 360 views of Auckland and the whole of Devonport, just stunning.
Shops and the ferry building – End of the walk
The walk will now take you right into the heart of historic Devonport and through the main shopping street. This cute little town is full of yummy cafes and restaurants – no, you won't find McDonalds or KFC here. Enjoy exploring the shops as you walk down to the ferry building where this walk ends.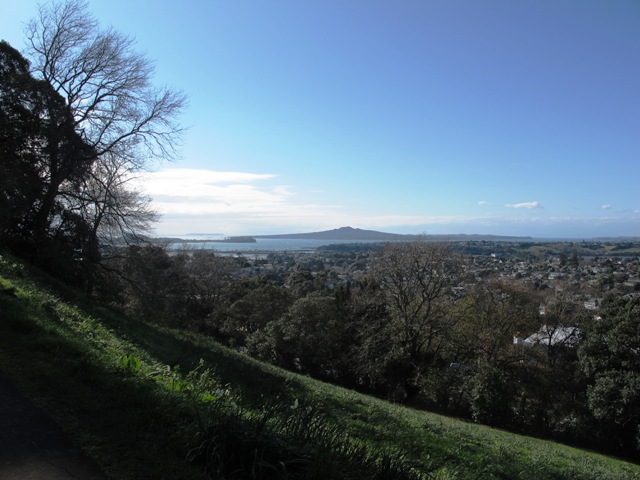 This weekend we embarked on an alternative Auckland coast to coast walk – from Waitemata Harbour to Manukau Harbour with less road and more parks