Auckland City Council do have their own documented walk here.  However, our alternate walk has less road, more parks, more bush, more direct, more variety, more views and more fun.
It takes about 4 to 4 1/2 hours if there are no stops.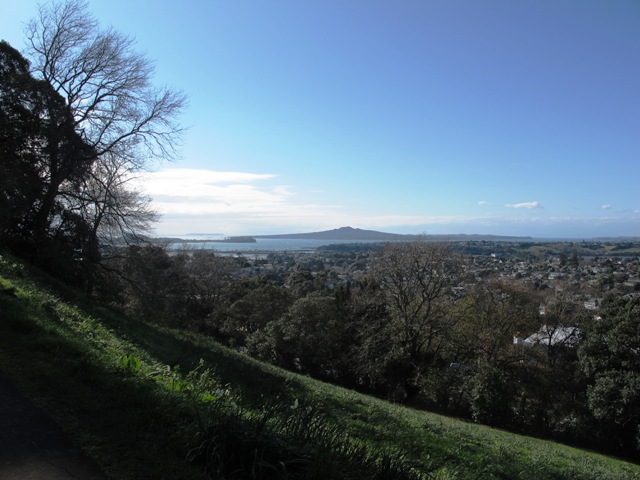 Quick facts about this walk
| | |
| --- | --- |
| Walk time: | 4 to 1/2 hours |
| Distance: | 16 km |
| Elevation: | Pretty flat most of the way |
| Track Quality: | Excellent the whole way |
| Difficulty: | Very easy |
| Dog Friendly: | Yes – welcome on leash |
| Facilities: | Toilets, Picnic tables, Parking and cafes on the way |
| FREE Map: | Download your FREE map of this walk |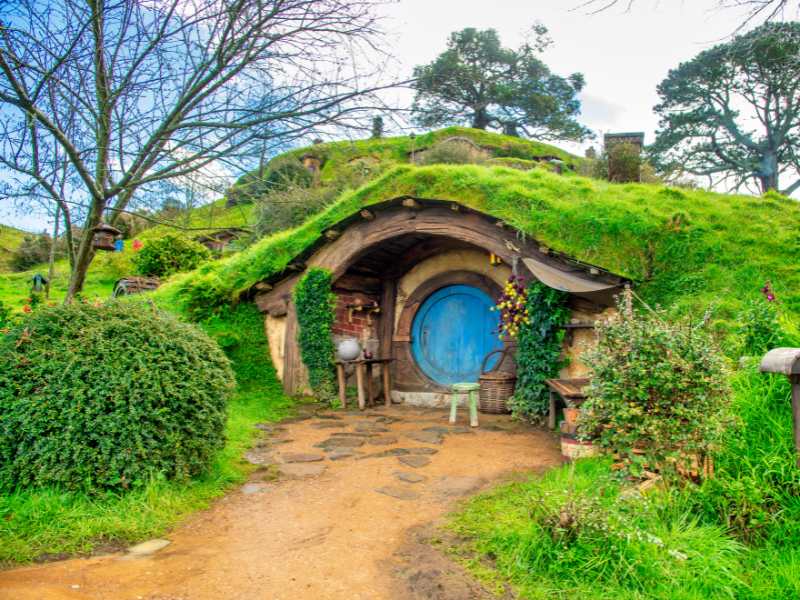 The Hobbiton Movie Set Day Tour - From Auckland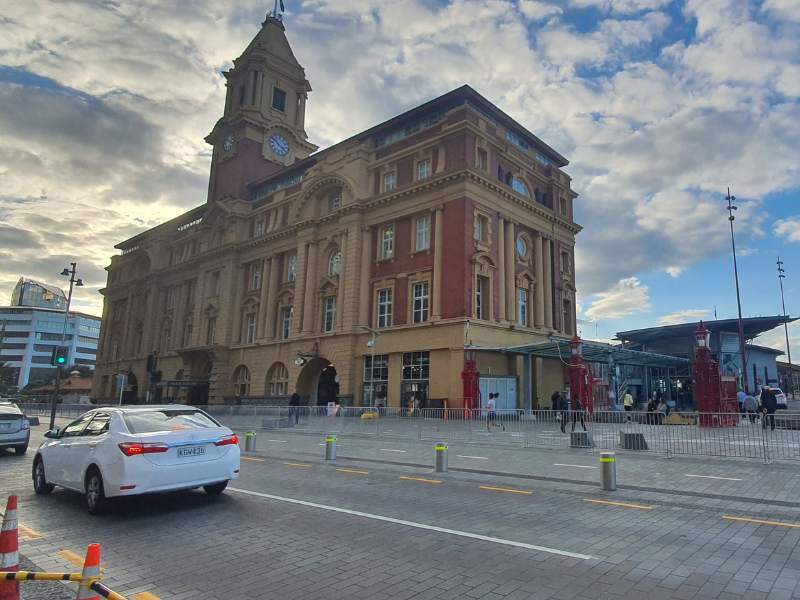 We started this walk at the Ferry Building in downtown Auckland and finished at Onehunga Mall.
The walk can be done in stages (so that at convenient points, if you need to return to the start we let you know where you can catch a bus or train) or you may wish to set a day aside to do the complete walk. It takes about four hours non-stop, but do allow yourself time to explore the side-trips (e.g. walk around Parnell, one of Auckland's most interesting and historic suburbs) and have refreshments.
If you are looking for things to do in Auckland this is a great day outing. This alternative coast to coast walk starts off at the Ferry Building and ends at Onehunga (or you could start from Onehunga and time your arrival to be at Wynyard Quarter to watch the sunset over the Harbour from a bar or restaurant.)
The walk is full of variety from kauri trees, to the Parnell shops and cafes, churches and cathedrals, views of the harbours, volcanoes and Waitekere Ranges and an art collection. It includes many playground areas for children which we hope is an incentive for them to do this walk. This walk in Auckland shows off the diversity of this wonderful city.
Auckland residents may even be surprised to find places they were not aware of!
Vistors will discover Auckland's back yard secrets and many cafes and shops – the ones that the bus tours miss.
You really don't get to know a place until you have explored it by foot!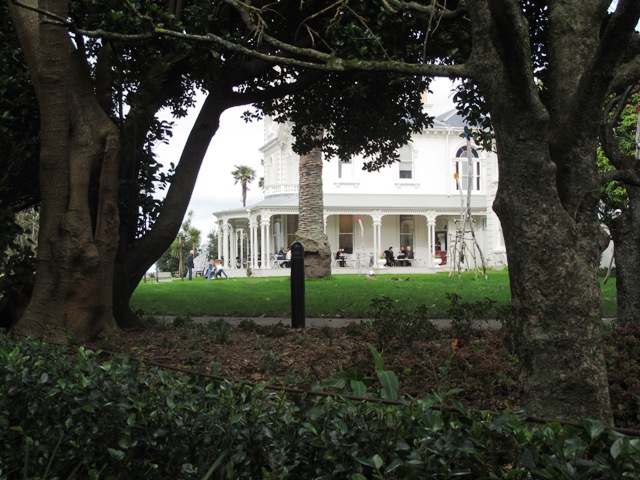 Comments on Coast to Coast Walk
I ma trying to locate a map for the coast to coast walk. Do you know where these are available from? We want to co-ordinate one with walkers from the Viaduct and cyclists from Onehunga meeting up so need to know the exact route. Your help would be appreciated.
I will be adding the downloadable map to this page soon.
Hi, this alternative coast to coast walk sounds wonderful … where can I get a guide/map or even just some hints? "Starts off at the ferry building and ends in Ohnehunga" leaves it pretty much to my own imagination … or am i missing something …? Thanks 🙂
Hi Christine,
I am currently working on the documentation of this alternative coast to coast walk. I do have a draft with full directions that I can email to you in the meantime, if you like.
Regards,
Helen
Hi Helen
I love the idea of an alternative coast to coast walk (having walked the original one many times) and I would appreciate it if you could email me a draft copy and directions for this walk if it is possible. I love getting out and exploring Auckland on foot and learning more about this city of ours at the same time. Your alternative coast to coast sounds so very good.
Thanks
Marilyn
Thanks for your enquiry Marilyn. I have emailed the directions to you.Enjoy! And if you are inclined please let us know your feedback. Happy walking, Helen
Hi Helen
Just found this site on google. Visiting Auckland for a few days in August 2012 (from Brisbane) and am keen on doing the alternative coast to coast walk. Can I request you to mail me a copy of the directions please.
Thanks !
Harsha
Thank you for your enquiry.
You can download the alternative Coast to Coast walk for free by entering your email and name in the box at the top on the right.
Have fun walking!
good morning
Could you please email me your wonderful sounding 'alternative coast to coast walk' map
thankyou
elizabeth
With pleasure! When you have done it I would really appreciate your thoughts. Thanks, Helen
please send me the alternative coast to coast walk.
Hello Rosy. Thank you for your request. Please check your inbox for the links. Regards, Helen
Hi Helen,
We ended up doing the walk today and most all went well – aside from the fact that we did it backwards, ie from Onehunga to Britomart, and quite a challenge it was in tricky places we were not so familiar with, let me tell you! Aggravated by the fact that we had trouble reading some of the street names on the maps even with our glasses, old ladies that we are. In fact we made a couple of little mistakes, but nothing drastic! If anything we had a few good laughs trying to figure the whole itinerary backwards: a mental challenge as well as a physical one! One of our mistakes was around the Newmarket train station area. Could not figure out where to go so we ended up walking further along Broadway, past the roundabout and then turned right. No big deal and we went straight down and into Newmarket Park.
Another mistake was right at the beginning, but only because a street sign was missing and another was pointing in the wrong direction.
Particularly enjoyed Newmarket Park with its pond and ducks and lovely landscaped ground and the added bonus of a well needed toilet. Never even knew it existed!Then the creek at the bottom of Parnell and the labyrinth next to the Cathedral for a bit of fun and to rest our two sore bottoms on the two rocks in its centre. Also loved the detour in the gully between Parnell and The Domain, through the brand new little tunnel.
We finished in this pub (Mac's) with a celebratory mojito and hopped on the outer link bus from the Civic and walked again from the Lido back home. That plus the labyrinth near the Parnell Cathedral – we did not cheat -, I reckon we walked a good 18 kms!
If anything with hindsight, I think next time I would print enlarged copy of the map on googlemap or copy relevant pages on my 'big print' Auckland street map and hightlight the full itinerary before leaving! However, spontaneity also has its advantages and it brought a lot of hilarity to our mini adventure!
Home now and unwinding in front of the fire.
Thank you Helen! Hope you have a good sunday! 🙂


Ariane
Hi Ariane,
Thank you so very much for taking the time to give me feedback. It has motivated me to re-do the walk. I now have a smart phone and an App that I use to track my walks, so I can download clearer maps.
It sounds like you had fun, especially with taking the route backwards!
I am in the process of taking photos of signs that are incorrect and sending them to the Parks Department/Auckland transport in the hope that they will be rectified.
Regards,
Helen
Hi Helen,
Can you please send me the directions for the alternative coast to coast walk? I am planning to do this tomorrow.
Thanks,
Jessica
I have just sent you an email with an attachment Jessica. Enjoy! Helen
Could you please send me the directions for the alternative coast to coast walk as planning to do it again soon. I did have the directions and did the walk some time ago but have lost the link somehow. Love your website, we are so lucky here in Auckland with all the different walks and tracks. Thanks for all your good work.
Many thanks for the warm stroke Chris! I agree, we are very lucky to have so many places to walk in Auckland. I will email you the walk brochure as an attachment. Cheers, Helen
Hi Helen
Could I have the link again to your Coast to Coats alternative walk please? Enjoyed it very much last time – especially the Parnell area down the little hidden track before Newmarket Park.
Cheers
Christine
I'm looking at the page through a smartphone and can't see a box at the right. I hope you can send me instructions for the alternative walk.
Hi Andrea. Thank you for drawing that to our attention. I will update the post to make it easier for smartphones.

Regards,
Helen
Hi,
I have signed up for the mailing list but cannot see anywhere to download the alternative map. I tried to do it with the free e-guide as well with no luck. Help!
Hi Rebekah, Thanks for letting us know. We have sent you an email with the download link. And have updated the Free Report to include the download link. Regards, Helen
Hi there, may I please have the link to the free guide with the alternative Coast to Coast walk from when I first signed up. I found the old email from your website but the link doesn't work. I'm planning to do the walk again, did it a few years ago and enjoyed it thanks 🙂