Roys Peak Track in summer, but in winter you'll see a lot more snow
Roys Peak Track is an excellent 3 hour one-way walk straight up the mountain to the top, it can be pretty hard going. It's a 5 to 7 hour round trip walk from the car park to the top and back.
I did this walk in the summer time, but if you prefer the stunning views of snow capped mountains, then enjoy the walk in winter, but be prepared, it's damn cold up there. 
The start of Roys Peak Track is only 6 km from Wanaka town. From the summit of Roys Peak, you will get the best ever views of the South Island lakes and Wanaka town, well worth the slog and slightly boring hike to get up there.
If you are hiking in the summer, expect the sun to be beating down on you throughout your trek, so take plenty of sunscreen.




In summer, start the walk at around 3 am for a stunning sunrise
Yeah, I know it's early!  You should make it to the top for a brilliant Roys Peak sunrise – at least you should get a carpark, and the track is a bit quieter at this time.
Keep reading below for the full walk details with points of interest, photos and more info on Roys Peak Track.
If you don't have that much time but still want stunning views of mountains and lakes, then do the Rocky Mountain Summit Track instead, it's only 3 hours return.
Roys Peak Track Car Park
The Otago Council upgraded the car park with space for 100 cars. However, it can still get full by 9 am. You should not leave valuables in your car as theft can sometimes be an issue. At the moment the parking is free with a donation, but this may change.
Roys Peak Winter Weather
Summer is obviously the best time to walk to the top of Roys Peak, but it can still be a hot slog with no pretty snow capped mountains to take photos of. If you can hack it, go in the winter when there is still snow around.
Although it's rare for the snow to sit on Roys Peak, the surrounding mountains should still be a delight. The entire trail is completely exposed. In the winter, you should expect some snow along the track and at the top, and even ice in some stretches. Make sure you have good winter gear with you including clampons and an ice axe.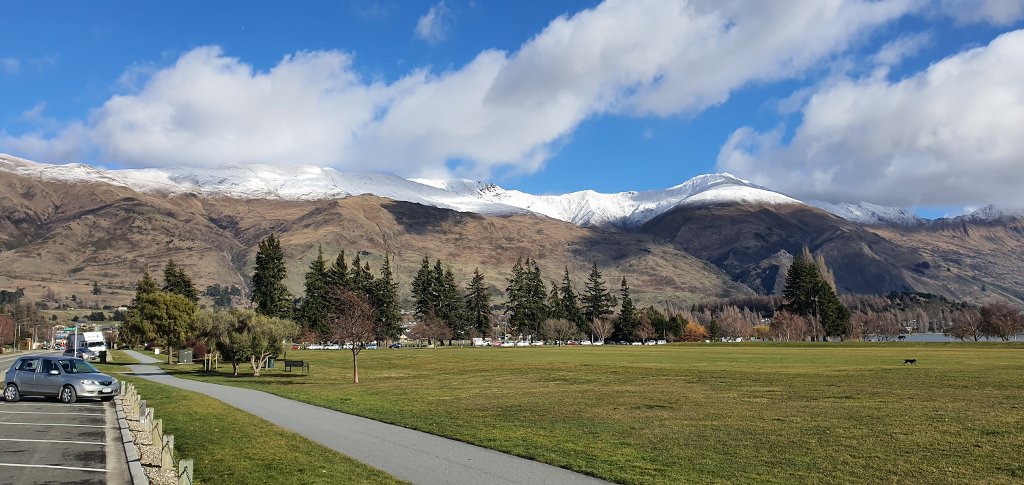 Quick Facts about this walk
Location: 6km from Wanaka, Central Otago, South Island NZ
Distance: 16 kms
Roys Peak Hike Time: 5 to 6 Hours
Difficulty: Hard – You need to be reasonably fit to complete the track.
Seasonal Restrictions: The track is closed for lambing from 1 October – 10 November each year.
Hazards: In winter you will need to carry and be able to use alpine equipment such as an ice axe and crampons. In addition, the top section of this track has challenging avalanche terrain above the 1000 m mark.
Wheelchair Access: No. Not suitable for prams or pushchairs either.
Route: Double back the same way
Elevation: 1578m
Wet Feet: No
Water: There is nowhere to fill up a water bottle on Roys Peak so take plenty of water with you
Toilets: Yes, one at the base and one at the viewpoint 30 mins from the summit
Dogs: No
Mobile Coverage: Yes
Camping: Not allowed on Roys Peak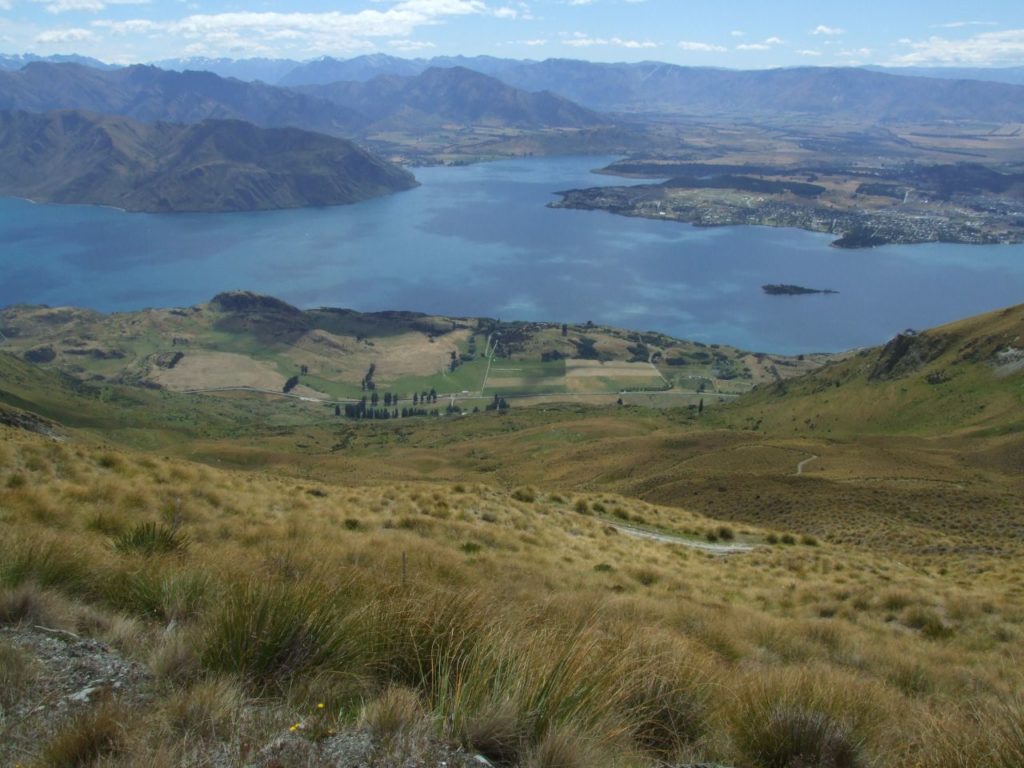 Summary points about Roys Peak Track hike:
Free day hike on Roys Peak Track, see our highlights
Just a 6km drive out from Wanaka village on a sealed road you'll find the Roys Peak car park. It's a sealed car park for 100 cars. Sounds like a lot but it can fill up fast.
When it's busy during summer, consider walking or cycling to the car park (via the Waterfall Creek Track that links to the Roys Peak Track) it's better than having to turn around not being able to park. There is no parking on the main road if the car park if full.
Wallis Alan Scaife Resting Place
Mr Wallis 1887-1965 grave stone. He picked the best spot in the South Island with stunning views over Lake Wanaka. The trail is steep and follows switchbacks until you reach the top. 
I thought if I start walking at 9 am it would be very good. But I was meeting people heading back down to the car park before I was even halfway to the top.
One group left at 5.30 am just so they would reach the top before it got too hot. I was amazed at the age of the walkers, 60 years plus, at 57 years I felt quite young, but my legs didn't. Then when I did manage to crawl to the top, mum and the kids beat me to the best seat on the mountain!
Many will only hike as far as the famous Roys Peak viewpoint, I continued on, right to the very top. The viewpoint is often confused as "Roys Peak", but this first viewpoint is actually not the top summit. You still need to hike for another 30 minutes to reach the true top of Roys Peak Track.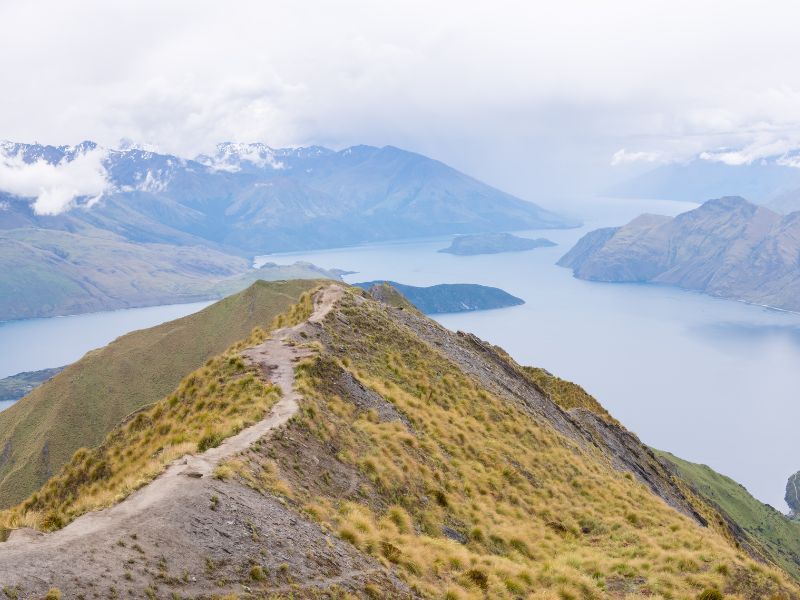 Popular questions about hiking up Roy's Peak
Is the Roy's Peak Track difficult?
The track is considered moderately challenging. It involves a steep ascent and can be physically demanding, especially in bad winter weather conditions. Proper hiking gear and fitness are recommended.
When is the best time to hike Roy's Peak?
The best time to hike Roy's Peak is during the summer months (November to April) when the weather is generally more favourable. Avoid hiking during the winter months when the track may be icy and dangerous unless you're experienced and have the right gear.
Is there an entrance fee for Roy's Peak Track?
There is no entrance fee for Roy's Peak Track and parking is free too.
Can I camp on Roy's Peak?
No, camping is not allowed on Roy's Peak. It's a day hike, and there are no designated camping areas along the track.
Are dogs allowed on Roy's Peak Track?
No, dogs are not allowed on the Roy's Peak Track to protect the fragile ecosystem and wildlife in the area. Please leave your pets at home when you go hiking.
Is there a shuttle or but option to the start of Roy's Peak?
There is no shuttle or public transport to the start of Roy's Peak. Also, Richies buses don't go there either. You'll have to get your own car or maybe find a guided tour.
You could consider walking or cycling to the car park (via the Waterfall Creek Track that links to the Roys Peak Track) it's better than having to turn around not being able to park. There is no parking on the main road if the car park if full.
Is Roy's Peak Track open all year round?
Roy's Peak is not accessible throughout the entire year, which might come as a surprise to many. However, this closure serves an important purpose. Roy's Peak traverses private land used for the lambing season, which occurs from October 1st to November 10th. During this period, the track is temporarily closed to ensure the safety and well-being of the newborn lambs.
Why is it called Roys Peak?
Roy's Peak is named after the Scottish settler William Roy, who arrived in the Wanaka area in the late 1800s. William Roy played a significant role in the development of the region, and the peak was named in his honor. It's a common practice in New Zealand to name geographical features after early settlers or individuals who made notable contributions to the area's history.