Roys Peak Track in Wanaka
The walk to the top of Roys Peak is 5 to 7 hours return, enjoy stunning views over Lake Wanaka. The peak is an excellent place to watch the sunrise in the morning or sunset in the evening, or you can climb Roys Peak in winter for snow-capped views.
Roys Peak Track in winter, summer or anytime
Roys Peak Track is an excellent 3 hour walk straight up the mountain to the top, it can be pretty hard going. It's a 5 to 7 hour round trip walk from the car park to the top and back.
I did this walk in the summer time, but if you prefer the stunning views of snow capped mountains, then enjoy the walk in winter, but be prepared, it's damn cold up there.
The start of Roys Peak Track is only 6 km from Wanaka town. From the summit of Roys Peak you will get the best ever views of the South Island Lakes and Wanaka town, well worth the slog and slightly boring hike to get up there. If you are hiking in the summer, expect the sun to be beating down on you throughout your trek, so take plenty of sunscreen.




In summer, if you start the walk at around 3 am
yeah, I know – you should make it to the top for a stunning Roys Peak sunrise – at least you should get a carpark, and the track is a bit quieter at this time.
Keep reading below for the full walk details with points of interest, photos and more info on Roys Peak Track.
If you don't have that much time but still want stunning views of mountains and lakes, then do the Rocky Mountain Summit Track instead, it's only 3 hours return.
Roys Peak Track Car Park
In 2019 the Otago Council upgraded the car park with space for 100 cars. However, it can still get full by 9am. You should not leave valuables in your car as theft can sometimes be an issue. At the moment the parking is free with a donation, but this may change.
Roys Peak Winter Weather
Summer is obviously the best time to walk to the top of Roys Peak, but it can still be a hot slog with no pretty snow capped mountains to take photos of. If you can hack it, go in the winter when there is still snow around.
Although it's rare for the snow to sit on Roys Peak, the surrounding mountains should still be a delight. The entire trail is completely exposed. In the winter, you should expect some snow along the trail and at the top, and even ice in some stretches. Make sure you have good winter gear with you.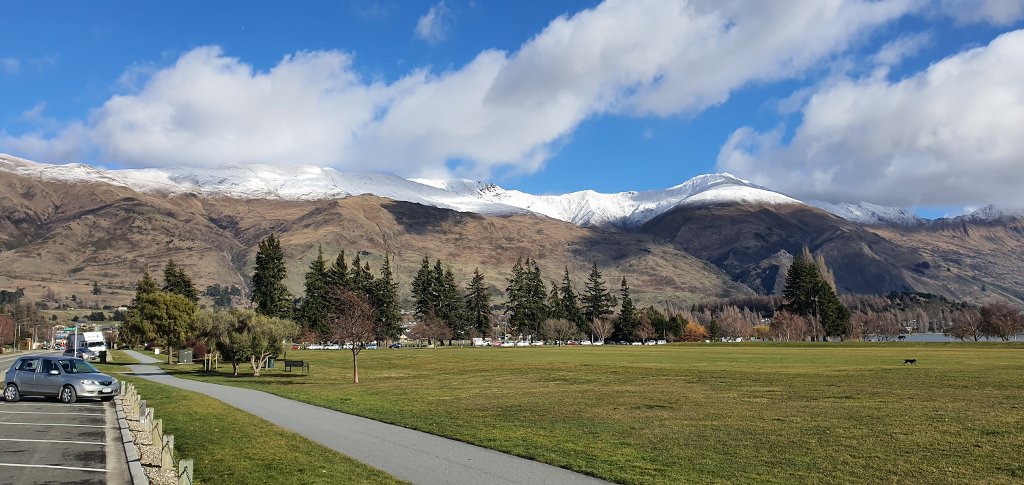 Finish off your holiday with some awesome things to do in Wanaka. If you haven't done the new waterfall climbing adventure, you don't know what you're missing, it's thrilling. There are two levels, 1.5 hour beginner climb or the big 4 hour intermediate waterfall climb.
Quick Facts about this walk
Location: Wanaka, Central Otago, South Island NZ
Distance: 16 kms
Roys Peak Hike Time: 5 to 6 Hours
Difficulty: Hard – You need to be reasonably fit to complete the track.
Wheelchair Access: No. Not suitable for prams or pushchairs either.
Route: Double back the same way
Elevation: 1578m
Wet Feet: No
Water: There is nowhere to fill up a water bottle on Roys Peak so take plenty of water with you
Toilets: Yes, one at the base and one at the viewpoint 30 mins from the summit
Dogs: No
Mobile Coverage: Yes
Camping: Not allowed on Roys Peak
Last Updated: November, 2019
Summary points about Roys Peak Track hike:
Free day hike on Roys Peak Track, see our highlights
Just a 6km drive out from Wanaka village on a sealed road you'll find the Roys Peak car park. In 2019 a new sealed car park for 100 cars was built with more room than before. You can't miss the toilet.
Wallis Alan Scaife Resting Place
Mr Wallis 1887-1965 grave stone. He picked the best spot in the South Island with stunning views over Lake Wanaka. The trail is steep and follows switchbacks until you reach the top. 
I thought if I start walking at 9 am it would be very good. But I was meeting people heading back down to the car park before I was even halfway to the top. One group left at 5.30 am just so they would reach the top before it got too hot. I was amazed at the age of the walkers, 60 years plus, at 57 years I felt quite young, but my legs didn't. Then when I did manage to crawl to the top mum and the kids beat me to the best seat on the mountain.
Many will only hike as far as the famous Roys Peak viewpoint, I continued on, right to the very top. The viewpoint is often confused as "Roys Peak", but this first viewpoint is actually not the top summit. You still need to hike for another 30 minutes to reach the true top of Roys Peak Track.
What sort of walking and hiking gear will you need
We've partnered with Macpac outdoor walking & hiking gear to bring you the very best products designed exclusively for our New Zealand climate. They'll ship for FREE within NZ on orders over $100 (if under $100 it's only $5). Worldwide international shipping is available except to the USA. Bulky orders will be $20.