Whites Beach walk is an easy 3.3km walk that will take you around 2 hours there and back.
Whites Beach is up and over the hill from the North end of Piha Beach where you'll find other walks. The walk is very easy, through a grassy clearing, cross a small creek, then walk uphill to a private driveway, turn right and walk to Anawhata Road. You can look down onto Whites Beach from here. Follow the track down to Whites Beach, enjoy the sand dunes and quiet. White's Beach is quite remote, please be really careful if you fancy a swim, it's not that safe unless it's super calm.
About Piha Beach, not far from Whites Beach
Piha is a very popular swimming beach. But caution must be taken when swimming on the beach, always swim where the surf life-savers are on patrol. A lot of people have been swept out to sea as the currents and rips are strong. If you prefer to surf the ocean waves, then head down to the southern end of Piha beach to find that perfect wave. Had enough of frozen processed fish, grab a rod and head for the rocks and try your luck at fishing. And of cause there are dozen's of tracks leading off into the bush. Pick an easy half hour walk, or try an over night walk.
History at Piha
For those wanting to learn more about the history and past at Piha, this website has some great articles. 
Quick Facts about this walk
Location: Piha, North Island, NZ
Distance: 3.30 kms
Time needed: 2 Hours
Difficulty: Easy
Wheelchair Access: No
Route: Round Trip
Elevation: 192m
Wet Feet: No
Toilets: Yes
Dogs: No
Mobile Coverage: Yes
Last Updated: March 2022
We've partnered with Macpac outdoor walking & hiking gear to bring you the very best products designed exclusively for our New Zealand climate. They'll ship for FREE within NZ on orders over $100 (if under $100 it's only $5). Worldwide international shipping is available except to the USA. Bulky orders will be $20.
Summary points about this walk
Points of interest along the walk​
When driving into Piha, there is a long descent down to the intersection, drive straight ahead and along North Piha Road for about 1.8km. You will see a caravan park on your left, the start of the track is just before the caravan park on your right hand side, there is enough space to park half a dozen cars at the start of the track. A better place to park your car is, at the surf life-saving club just another 50m along the road on your left, it is a safer place to park your car, and the toilets are clean.
North Piha road car park. To Anawhata Road – Time 50 min = Distance 1.6Km = 180 m climb. The first 10 minutes of the walk is very easy, you walk through a grassy clearing, cross a small creek, then from there it's a good 30 minutes, 180 meters, walk uphill all the way to a private driveway, turn right and walk another 5 minutes to Anawhata Road. When you reach the private driveway you can look down onto Whites Beach.
Whites Beach, Te Waha Point and back to Piha Beach
Te Waha point is at the southern end of Whites Beach, walk down to the end of the beach and up onto the rocks. Keep walking out to the point for only another 50m then stop and look up to your left hand side, you can just see a steel cable and steps running across the bank and leading into the trees.
This climb up to Te Waha point ridge will take you 10 minutes, turn right when you reach the top of the ridge, this track will run you out to the lookout point, stop and enjoy the view, you can look north and south along the coast.
To return to Piha beach, backtrack to where you came up from Whites Beach, walk another 10m and you will see the track on your right hand side leading down to Piha beach.
This little walk will only take you 10 minutes. This track can be very slippery when wet, from here to the car park will only take you 20 minutes, you can walk back along the beach or cut back up onto the North Piha Road and back to your car.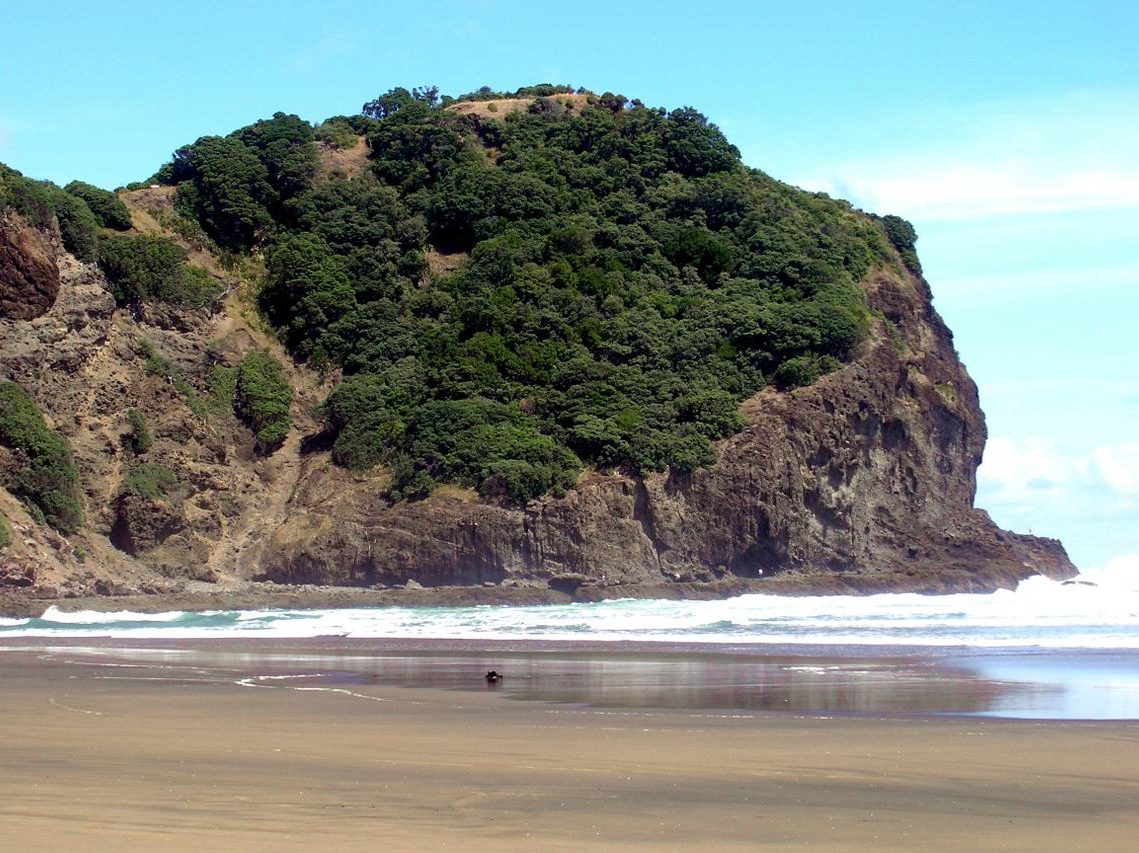 3.30 km • 2 hours return • Very easy • White's Beach is a beautiful sandy beach 3.3 km to the north of Piha.