Start at Coopers Creek car park and walk for 7 km one way to the stunning Ryde Falls. Great views across Mt Oxford and the surrounding hills along the way.
Ryde Falls Track in Mt Oxford, NZ was walked by Amee in 2022
Stunning walk, through sheltered beech forest (perfect for a rainy or hot, sunny day). Great views across Mt Oxford and the surrounding hills. The falls themselves are stunning and provide a fabulous spot for a picnic, before heading back to soak up some more of the forest and historical old logging railway. The track is easy to follow with two small creeks to hop across. There are more walks in Mt Oxford here.
It was a misty start to the day as myself, a girlfriend and her poochy made our way from Cooper's Creek car park and along the Ryde Falls Track. There was some excellent signage present – especially about a new reforestation incentive taking place there – replanting natives. We headed up into the forest and past this along the way (super interesting). Through a gate and across a flat section, along the river, where the bellbirds were out in force!! Then the path made a steep climb (very briefly though).
At the top, a large rock escarpment (which we stood on top of) gave amazing views of Mt Oxford and the surrounding hills! From there we were surrounded by beech forest (and several wasps). My friend actually got stung and they were a real pain! So be warned!
From there the path was pretty cruisey and undulating. Lots of flora and fauna to take in. Although the path was quite muddy in places (don't wear your best trainers). A few wooden benches were present on the way to take a rest and enjoy the sights, sounds and smells of the forest. There are some cool fungi about (if you keep your eyes peeled). On one bench we found signage regarding an old railway which was used for deforesting and taking the wood out in the late 1800s/early 1900s. This was washed and rebuilt! Must have been a massive effort in those days! Only to get washed out again and then close!
After another 40 mins or so (of fairly easy walking) – we got to the falls themselves! They are beautiful and a great place to make a coffee and enjoy a picnic! There are swimming holes present for the more adventurous. Watch the sandflies though as this section is quite shady and not much wind about.

We stayed about an hour and enjoyed the solitude and again fabulous birdsong. Before heading back along the same way we came – back to Cooper's Creek. I would allow 2 hours each way and at least an hour for stops and something to eat!

This walk was surprisingly harder and longer than we first thought – but was definitely family and dog friendly. It was a wonderful few hours and a great way to spend an afternoon or morning.
Quick Facts about this walk
Location: Mt Oxford, South Island, NZ
Distance: 14 km return
Time needed: 4-5 hours – maybe longer with a picnic
Difficulty: Medium
Wheelchair Access: No
Mountain Bikes: Yes, allowed
Route: Round Trip
Elevation: Undulating along the whole length of the walk. One challenging uphill perhaps for some
Wet Feet: 

The track can be muddy after rainfall

Toilets: Toilet located at the start of the walk (Cooper Creek)
Dogs: On a leash only
Mobile Coverage: Yes
Last Walked: 2 April 2022
Google Reviews on Ryde Falls
Summary points about this walk
Points of interest along the walk​
Start of the track from Coopers Creek car park
Super cool forest regeneration programme – not far along at the start of the walk, before entering the forest.
Rydes Bush Tramway and your first creek crossing
Historical railway signage of old logging route. Beech forest tracks, with some local flora and fauna.
As you stroll along you will approach two stys, at the second sty, climb over this one, don't follow the track down the hill. This is a modest 5 minute ascend to the top of the ridge, with good panoramic views of Mt Oxford. Walking through this marvellous Beech tree bush makes up for the gorse and blackberry we had to walk through at the start of the walk. We didn't hear a lot of native birds singing on this section of the walk, but just over in the next valley the songs of the bellbird were booming all around us.
Ryde Bush Tramway
The Ryde tramway is just off to the right, there is a lot of information there for you to read plus a couple of photos. The tramway track is closed to inexperienced trampers for a good reason. We took this way home for a look-see, it was very interesting trying to follow the Ryde tramway but it took twice as long to get back to the car. After you manage to climb down and out of the vertical gorge's then fight through the knee-deep bogs you will run out of track, nothing, yes it was demanding, don't go this way.
In another 15 minutes you arrive at the turnoff to Wharfedale track. From the Wharfedale turn off, you could walk back out to the road end in a very easy 40 minutes, better than 2 hours and 30 minutes. But today we will walk up to Ryde Falls, don't believe the sign when it tells you, it is a 30 minute walk; it was a short enjoyable 15 minutes. When you walk out onto the main creek, walk 20m up on the left-hand side then cross over to the Y junction. You should see the orange triangle pointing uphill to the next terrace. Then walk over to the left and down to the track and a sign to Ryde Falls. It is an easy 3 minute stroll from here.
Ryde Falls is made up of three levels
You can climb your way up to the second level, but it is not for the faint hearted, very dangerous if the ground is wet and slippery. NO, there is nothing wrong with this mountain water, drink all you want. Fill up your water bottles before walking out.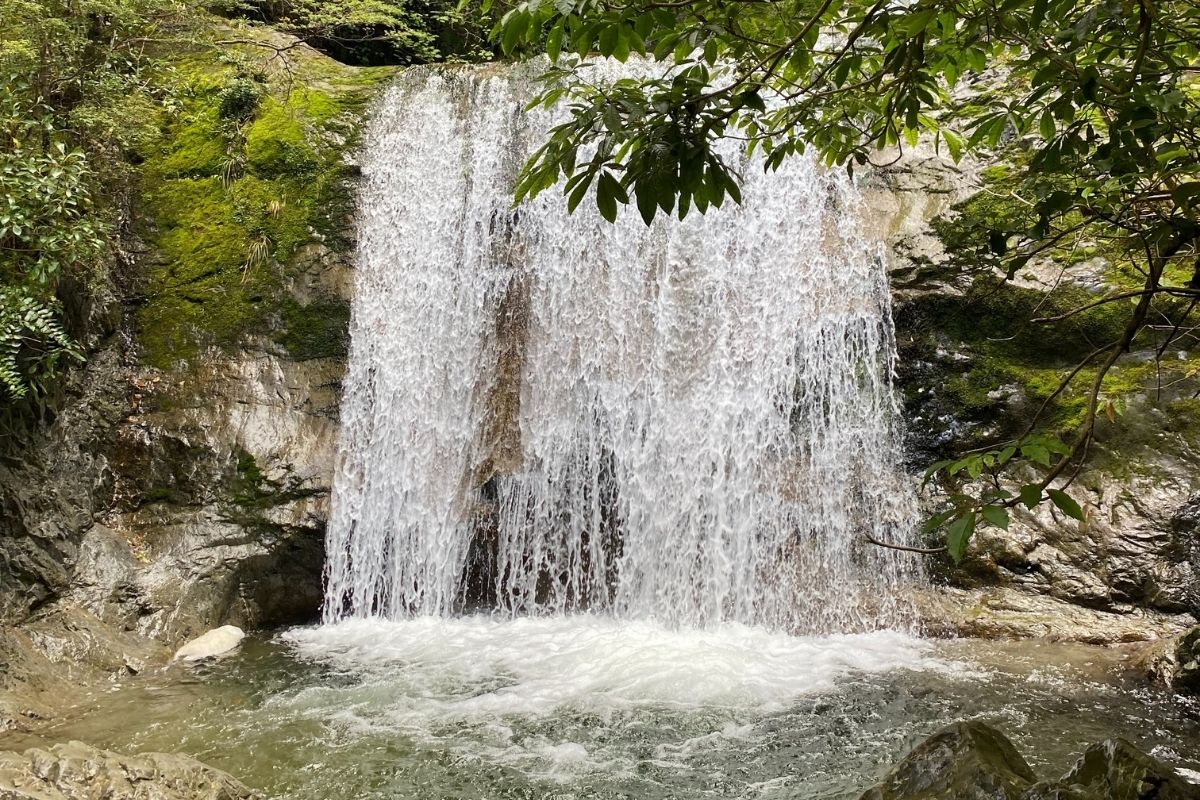 14 km return • 4-5 hours • Medium • Start at Coopers Creek car park and walk to the stunning Ryde Falls. Great views across Mt Oxford and the surrounding hills along the way.
13.2 km • 6.5 Hours • Medium to Hard • Mt Oxford tracks have stunning views across Lees Valley, Canterbury Plains and surrounding mountains. A decent grunt, workout & hike up to Mt Oxford summit.
What sort of walking and hiking gear will you need
We've partnered with Macpac outdoor walking & hiking gear to bring you the very best products designed exclusively for our New Zealand climate. They'll ship for FREE within NZ on orders over $100 (if under $100 it's only $5). Worldwide international shipping is available except to the USA. Bulky orders will be $20.