I have been here only a few times – with my children when they were little and once to a garden sculpture exhibition.
I had not realised that you can walk the circumference, although unfortunately not completely by the lake edge.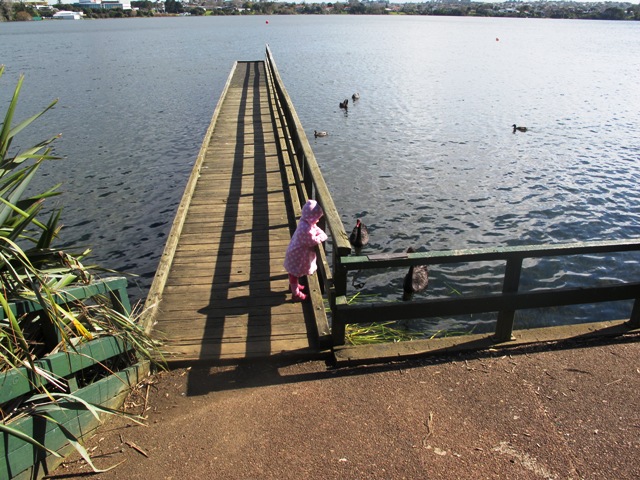 Quick facts about this walk
| | |
| --- | --- |
| Walk time: | approx. 1.5 hours |
| Distance: | about 7kms |
| Start: | The Pumphouse carpark |
| Track: | A mix of level paths and steep paths/steps. |
| Difficulty: | Suitable for users of average fitness and mobility. May require boots in wet weather, running shoes suitable in dry weather. |
| Caution: | Muddy and slippery when wet. |
| Highlights: | Lake activities, water birds |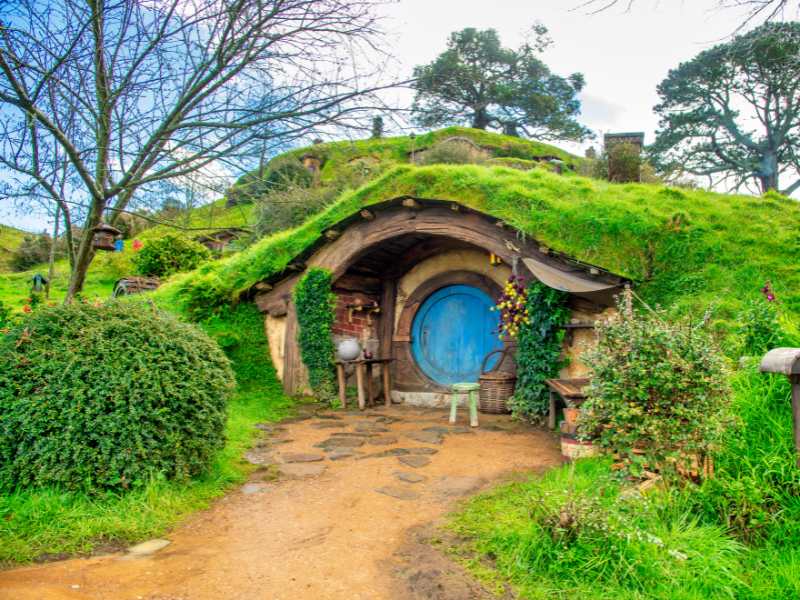 The Hobbiton Movie Set Day Tour - From Auckland
However the bits by the lake edge – Killarney Park, Henderson Park, Sylvan Park, Kitchener Park and the Quarry Lake Reserve more than make up for the street walking.  
There is lots to see at the lake edge, from the water birds to the water activities (sailing, wind-surfing, canoeing and model yacht racing). For more info about Lake Pupuke click here.
Lake Pupuke walkway track was muddy in places but would be ideal walking from November to perhaps June.  From September to December the path from Henderson Park to Sylvan Park is closed to allow the water birds space to nest and breed.
Even though the day was cold, windy and with spots of heavy rain, it was still a very enjoyable walk.  We will be back to document the Lake Pupuke walk very soon (and hopefully the day will be sunnier).
Update
We came back on a lovely summer day. We stopped and had a delicious iced coffee at the Cafe French Rendez-vous beside The Pumphouse.
Map location and how to find Lake Pupuke Takapuna
Comments on the Lake Pupuke Takapuna
sorry I don't agree, went to walk the lake today after reading your information and the amount of road walking spoilt the walk completely. I wouldn't recommend this to someone who likes to walk.
Hi Vicki,
The reality of living in a city means that there will be street walking involved. People usually enjoy walking in a variety of environments as there is always something new to see. Auckland Council has been petitioned to get a path following the circumference of the lake, but unfortunately the private land owners are unwilling to share. I wonder did you purchase our brochure and find all the tracks that take you along the lake? Sincerely, Helen
Went from Kara Cafe in Milford to the lake through the woods! Was not sure where I was going but found an entrance that led down to the water. The ducks and swans were beautiful, unfortunately there were no benches to sit on, just a couple of rocks. Walked back up to the road but would like to return and see more of the lake. It was a beautiful day and there were sailboats and windsurfers on the water. I'd love to learn to windsurf while I'm here (I'm 65!)
Hi Chris,
The lake is a beautiful Auckland gem. Hope you get windsurfing!
Cheers Helen
More of my walks near Takapuna, North Shore, Auckland