My walk round Glenfern Loop Track at Port Fitzroy
Starting in the Glenfern Sanctuary this walk is a 2.6km loop walk on Great Barrier Island. It took me 1 hour to complete including stops at Sunset Rock lookout and the big kauri tree.
Fantastic little walk including an awesome lookout with views over Port Fitzroy plus a small detour to climb the giant kauri tree
From Port Fitzroy, take Aotea Rd walking past the one and only general shop. Then take the first left down Glenfern Rd. It's about a 1km walk to the beginning of the track from the port. You'll need to go through the Glenfern Sanctuary fence gate to enter.
Port Fitzroy Boat Club
You'll find the yacht club opposite the turn off to Glenfern Rd. They were really busy when I popped my head in for a quick look. Lots of meals getting served up, lots of yachties craving lunch cooked for them for a change. There was a small coffee machine yet to be in service. As an Auckland coffee snob, I was kind of glad it wasn't working ha ha!
Views from Sunset Rock lookout
It's a bit of an uphill hike from the Glenfern Sanctuary office in Fitzroy House where the walk started. However, the views of Port Fitzroy along the way were very pleasant. 
Take the short detour out to Sunset Rock, the views are stunning from here. 
If you can't be bothered walking up the hill I'm pretty sure there might be a guided tour from Fitzroy House in their van.
Visit the giant kauri tree lookout
After Sunset Rock the walk is very easy through a bit of regenerating bush then into unfarmed bush. The change in scenery is quite dramatic with enormous Puri trees and Kauri. Take the small detour to the kauri tree, you'll be surprised to find a small suspension bridge to a step ladder going up to a tiny viewing platform right in the tree.
The walk is all downhill from here with quite a few steps along the way. You'll pop out of the track just up from Fitzroy House.
Quick Facts about this walk
Location:  Port Fitzroy, Great Barrier Island, North Island, New Zealand
Distance: 2.6 km full round trip from Port Fitzroy
Time needed: 1 hour including photo stops at the lookout and kauri tree
Difficulty: Easy except for the bit of a climb at the start of the walk
Wheelchair access: No
Route: Loop track
Elevation: 122m at its highest point
Wet Feet: No
Toilets: One toilet at Glenfern Sanctuary office
Dogs: Not allowed
Mobile Coverage: Yes on Vodafone and 2 Degrees, but nothing on Spark
Last Updated: 2 Jan 2023
Summary points about this walk
Reviews from other walkers who have been to Glenfern Sanctuary Regional Park
My photos of the Glenfern Loop Track at Fitzroy Bay
More walks on Great Barrier Island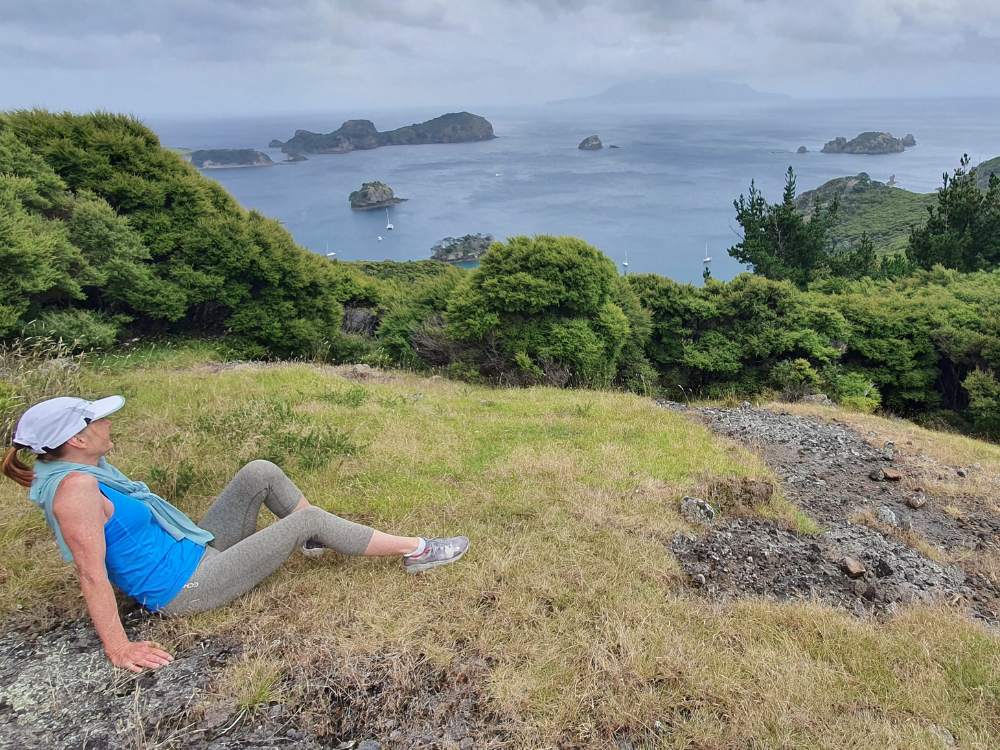 Starting in Red Cliff Cove the Castle Peak Summit is a 5km loop walk on Great Barrier Island. It took me 1.15 hours to walk including photo stops.
What sort of walking and hiking gear will you need
We've partnered with Macpac outdoor walking & hiking gear to bring you the very best products designed exclusively for our New Zealand climate. They'll ship for FREE within NZ on orders over $100 (if under $100 it's only $5). Worldwide international shipping is available except to the USA. Bulky orders will be $20.