Mt Hobson Summit Loop Track from Kaiarara Bay
Starting in Kaiarara Bay to Mt Hobson Summit is a 15.5km loop walk on Great Barrier Island. It took me 5 hours to complete including stops. 
Ok, so they say there are 1000 steps up to the summit of Mt Hobson, but according to a boy at the top, it's actually 1604!
Make sure you park the dingy high up on the grass or it'll float away in high tide. After arriving on the beach at Kaiarara Bay I took the Kiwiriki Track up to the Kaiaraara Hut. About 1.4km of easy walking. The full loop walk to the summit starts from here. My times and distance are from the beach, not the hut.
Kaiaraara Hut facilities and rooms
I didn't bother to stay at the hut as it was just a day walk for me. However, the hut is very well equipped and can sleep 28 in two rooms. Just hope no one snores! It also has a wood stove, plenty of gas cooking facilities, 1 toilet and cold running water. It's best not to drink the water, bring your own. You can boil it for tea and coffee though.
You'll need to book the hut to stay.
Cooper's Castle Track junction and Kauri dam lookout
After you leave the hut, the track is a fairly moderate uphill walk. On the way to Cooper's Castle Track junction, you'll cross the stream several times with 15 bridges including 3 suspension bridges. The rest are wooden bridges.
There is a short, steep side track down to the remains of the lower kauri dam. The dam washed away in a storm in 2014, but the base is still visible in the stream. The viewing platform is nice, just a pity you can't get into the river below for a swim.
Now it's time for the big uphill climb with yet more steps to the summit
This part of the walk gets tough with so many steps to climb before reaching the summit of Mt Hobson. It's all worth it though for the awesome 360 degree views at the top.
Once at the summit, there is a small viewing platform deck. I was surprised to find so many people already there enjoying the views and having lunch. You'll get great views of the beach and airport at Claris on one side and the second airport at Okiwi on the other side.
Take the track to Mt Heale Hut for the downhill walk
As you can imagine there are tons of steep steps going down. Not as many as the way up though which is good. It's about a 30 min walk to Mt Heale Hut.
The views from the hut are outstanding, well worth staying here if you have time. This hut sleeps 20 in two rooms. It also has two long drop toilets, plenty of gas cooking, and two great deck areas. Water is from the rainwater tank on the roof, so best to boil it before use. Enjoy excellent views of the Hauraki Gulf, Little Barrier Island and the summit peaks on Great Barrier Island.
Quick Facts about this walk
Location:  Great Barrier Island, North Island, New Zealand
Distance: 15.5 km full round trip from Kaiaraara Bay
Time needed: 5 hours including photo stops and a quick lunch at the summit
Difficulty: Hard with 1604 steps to climb
Wheelchair access: No
Route: Loop track
Elevation: 713m at its highest point
Wet Feet: No, there are plenty of bridges crossing the stream
Toilets: One toilet at the start/end of the walk then another just before the kauri dam. Both huts have toilets.
Dogs: With a DOC permit for recreational hunting or management purposes only
Mobile Coverage: Yes on Vodafone and 2 Degrees, but nothing on Spark
Last Updated: 30 Dec 2022
Summary points about this walk
Reviews from other walkers who have hiked to the top of Mt Hobson on Great Barrier Island
My photos of the Mt Hobson Summit walk at Great Barrier
More walks on Great Barrier Island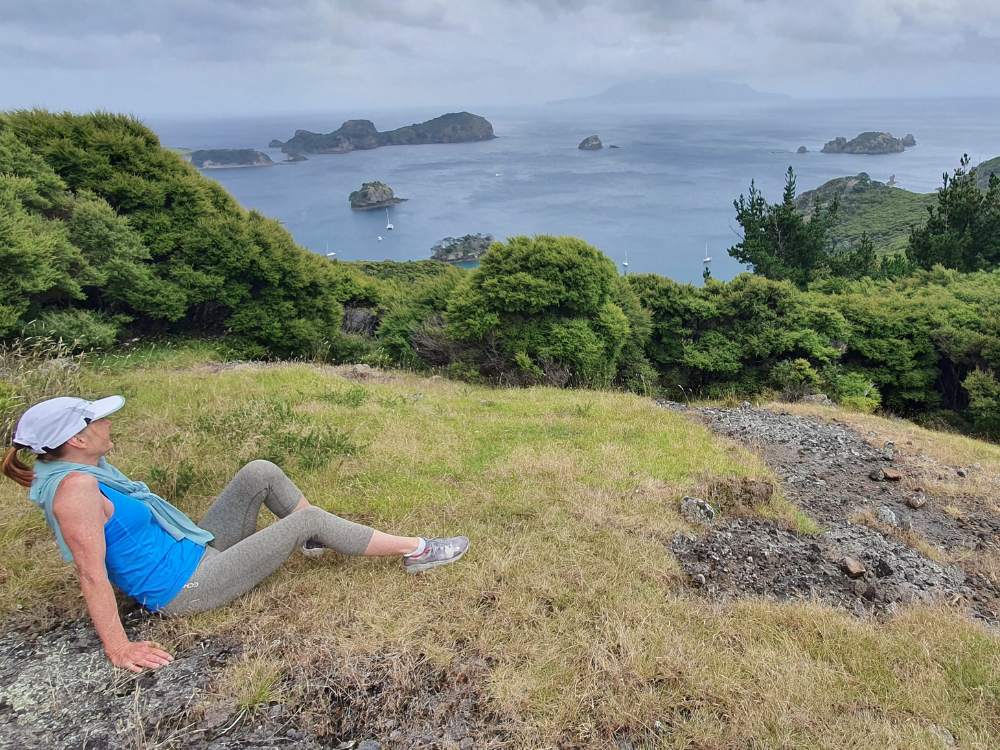 Starting in Red Cliff Cove the Castle Peak Summit is a 5km loop walk on Great Barrier Island. It took me 1.15 hours to walk including photo stops.
What sort of walking and hiking gear will you need
We've partnered with Macpac outdoor walking & hiking gear to bring you the very best products designed exclusively for our New Zealand climate. They'll ship for FREE within NZ on orders over $100 (if under $100 it's only $5). Worldwide international shipping is available except to the USA. Bulky orders will be $20.