Motu Kaikoura Track or Man O War Passage
The Motu Kaikoura Track is a 4km one way, medium walk on Great Barrier Island. It took me around 2 hours to walk there and back. Only accessible by boat.
Sign posted "Man O War Passage" but on Motu Kaikoura Island, this is a medium level walk with great views and a wide track. Located at Great Barrier - boat access only
We arrived in Man O War Passage, anchored the yacht, jumped into the dingy and arrived on the little beach on Motu Kaikoura Island at 11.45am. The tide was very high making the beach non-existent.
After drying our feet and putting on walking shoes we headed off, nice to be on land for a good walk. The walk starts directly from the beach, it's signposted "Road to Man O War Passage" 2 hours return. This is bang on as that's exactly how long it took us.
Uphill for 10 mins to the airstrip and views
It's straight uphill from the start of the walk and is a bit of a slog up the hill. At the top is a working airstrip and some great views. You could of course turn back here after taking a few pics. We carried on following track for a gentle walk down hill walk through the pine trees giving us great shade from the sun.
It's a nice mixed hike of dirt road and bush with views here and there. We arrived at Motu Kaikoura lodge 53 minutes after we set off.  This is the end of the walk, now you'll need to double back. 
Quick Facts about this walk
Location: Motu Kaikoura Island, Great Barrier, North Island, New Zealand
Distance: 3.7 km one way
Time needed: 2 hours return
Difficulty: Medium
Wheelchair access: No
Route: One way then double back the same way
Elevation: 144m at its highest point
Wet Feet: Dry feet the whole way
Toilets: There seems to be an abundance of toilets along the track – 3 in total. Long drops of course. 
Dogs: There was no signage to say you couldn't take your dog
Mobile Coverage: Yes on Vodafone, not much on Spark
Last Updated: 27 Dec 2022
Summary points about this walk
More photos of my walk on the Motu Kaikoura Track - Man O War Passage walk at Great Barrier Island
More walks on Great Barrier Island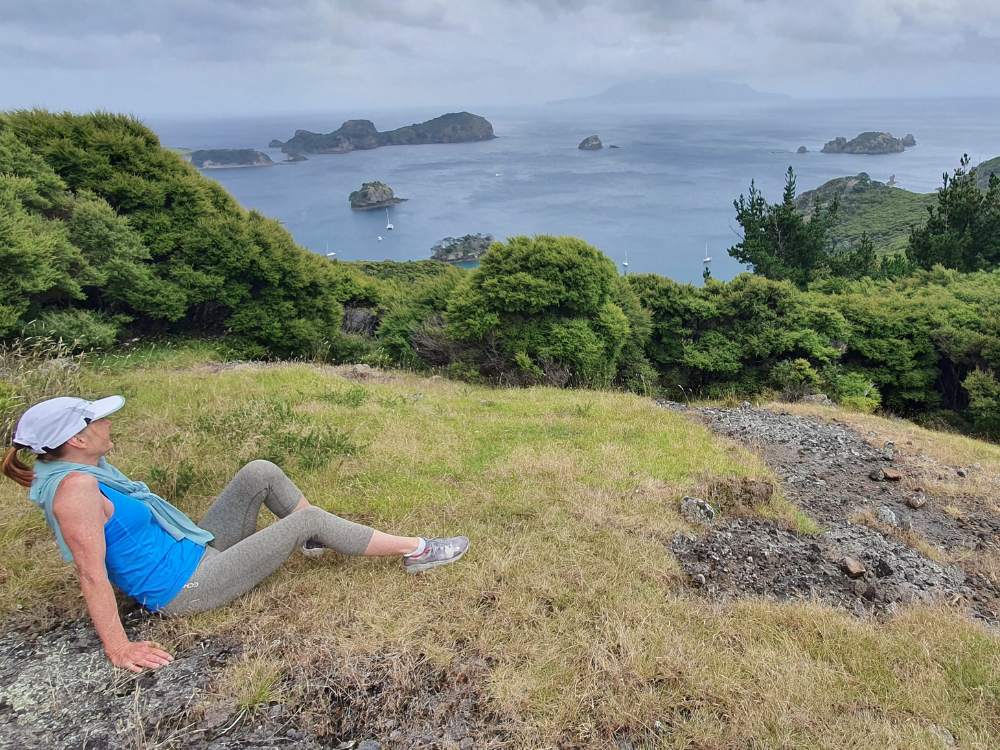 Starting in Red Cliff Cove the Castle Peak Summit is a 5km loop walk on Great Barrier Island. It took me 1.15 hours to walk including photo stops.
What sort of walking and hiking gear will you need
We've partnered with Macpac outdoor walking & hiking gear to bring you the very best products designed exclusively for our New Zealand climate. They'll ship for FREE within NZ on orders over $100 (if under $100 it's only $5). Worldwide international shipping is available except to the USA. Bulky orders will be $20.