Note – 12 Oct 2023: This track is currently closed due to a new upgrade. There will be a fabulous 3 metre wide concrete walkway when finished, how exciting.
On top of that, some of the signposts within Birkenhead Domain were confusing – giving opposing time and directions. Having a map with us did prevent us going around in circles!  It did turn out to be a wonderful bush walk and the birdsong was great to hear.
Quick facts about this walk
| | |
| --- | --- |
| Walk time: | approx. 1 hour 10 mins |
| Distance: | about 5.84 kms |
| Parking: | Mahara Avenue, off Highbury Bypass. |
| Track: | Mostly level paths with some steps and steep inclines. |
| Difficulty: | Suitable for most ages and levels of fitness and mobility, designed with sturdy flat shoes or running shoes in mind. |
| Dog Friendly: | There is a dogs off leash exercise area |
| Highlights: | Bush and stream. |
| FREE Map: | Download your FREE map of this walk |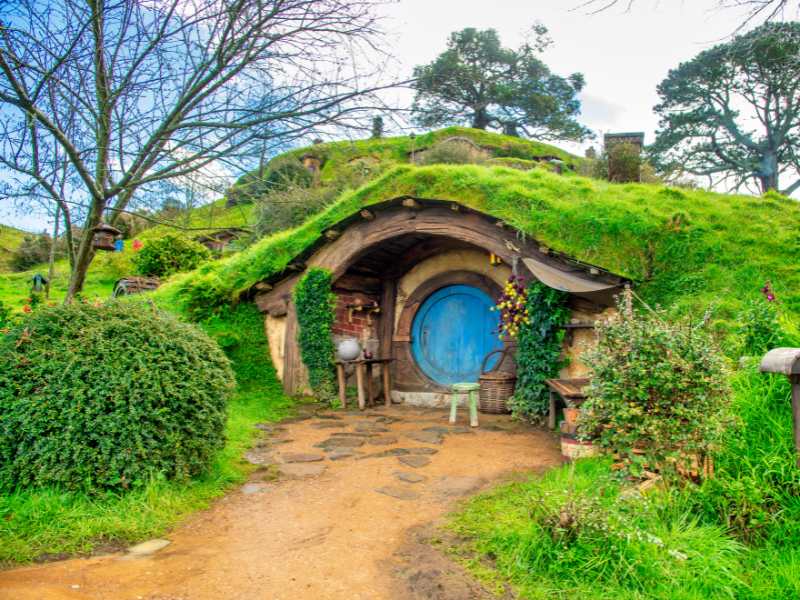 The Hobbiton Movie Set Day Tour - From Auckland
Our third attempt with a more detailed map and a pen to take notes kept us on track and now we can document this walk with clear instructions.
Eskdale Reserve and Birkenhead Domain have native trees, nikau palms and ti-trees. The sounds of the bush and the stream give you the illusion of remoteness until you emerge at Birkenhead Cemetery.
The main track is in good repair, and the minor tracks have loose stones and roots. Sturdy shoes are recommended. Expect mud in winter!
Nearby cafes in Highbury Shopping Centre or Sausalito at Northcote. Dogs off leash exercise area within Birkenhead Domain (check signs). No playgrounds.